Dulcie Wing who is now sadly deceased, was a descendant of the Pentreath & Jeffery Families. Dulcie was a wonderful lady who was proud to be "Proper Cornish"
In the burial register of the Parish of Paul is the following entry: "1777, December 27th, Dorothy Jeffery was buried". A note is added in different handwriting: "This is the Famous Dolly Pentreath, her maiden name, spoken of by Daines Barrington, in Archelogia." It was often the custom to keep the maiden name at marriage, so it was that she married a Jeffery and kept her name of Pentreath. By tradition she was 102 when she died; she was well known at Castle Horneck where she sold fish in 1772 and was stated at being 87 then. According to a Mr. John Halse of Mousehole this information was handed down to him….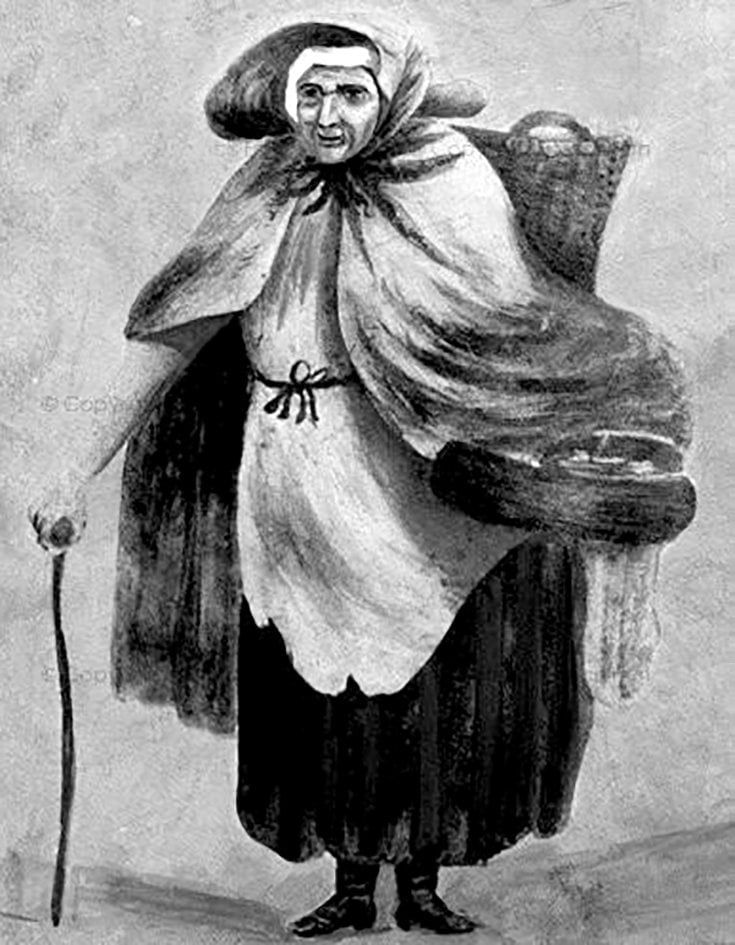 Dolly Pentreath lived at one time in a small court now torn down and replaced by a good granite building occupied in 1934 by a hairdresser and tobacconist named Ladner over-looking the bank, at its middle point of Mousehole Harbour. Dolly moved to a cottage oppo-site the Keigwin Arms where she died in 1777. She was dirty (not easy to keep clean hawking fish in all weather) could be coarsely spoken when she chose, and was supposed to have an illegitimate child of which no further information can be found. As regard Dolly's age at death, this was certainly not 102 years, but 90. Paul Baptismal Register has 1692, May 16th Doartye, daughter of Nicholas Pentreath, baptised at Paul Church. 1729 October 18th, John, born child of Dolly Pentreath was baptised. None of this can be positively proved, but since Dolly kept the surnames of Pentreath and Jeffery, it is that she had married a Jeffery, but when widowed, reverted to her maiden name. She was not the last person to speak Cornish, but the last surviving native speaker; she claimed that she was past 20 years before she spoke English, and that her father being a fisherman, she was sent to Penzance at 12 years of age, hawking fish, using the Cornish language, which nearly all the inhabi-tants of that area understood. Between 1704 to 1712, there must have been a great change as Dolly learned English for business reasons. Written about her Father in Cornish was this.

Cartrevak Nicholas Pentreath
Pa reffa why doaz war an dreath
Gen puscas, komerowhy `nyth
Tha geil coupez, hedna yw Fyr,
Ha cauz meaz Dega, Dega –
Enna en of guz dega gist
Translated as
Neighbour, Nicholas Pentreath
when you shall come upon the sand,
With fish, take you care – to do right, that is wise,
And speak aloud, Tythe Tythe, There is all your time tythe.
A great deal of Cornish probably died with Dolly. A great many stories grew up about her. She was supposed to have driven back a press gang saving a man from being seized. swearing and frightening the men in Cornish. It is said that she saved a sailor from hanging, by pushing him up a chimney lighting a furze fire underneath, filled a "keeve" or "crock" with hot water pretending to wash her feet when the officers searched her premises, swearing at them for disturbing her ablutions, threatening them with a chopper. She smoked a pipe and drank her ales. The monument in the wall outside Paul Church, was erect-ed by Prince Lucien Bonaparte, a nephew of the French Emperor, in June 1860, when the Rev. J. Garrett was vicar. Prince Lucien Bonaparte was a student of many languages and had the Song of Soloman translated in Cornish. The Cornish Epitaph on Dolly is as follows:

Coth Doll Pentreath, cans ha deau
(Old Doll Pentreath, one hundred and two)
Marow ha kledyz ed Paul pleau
(Dead and buried in Paul Parish)
Na ed en Eglos gars pobel bras
(Not in church, with great folk)
Bes ed Egloshay, coth Doll es.
(But in Church yard old Doll is)
(Literal Translation)
DOLLY PENTREATH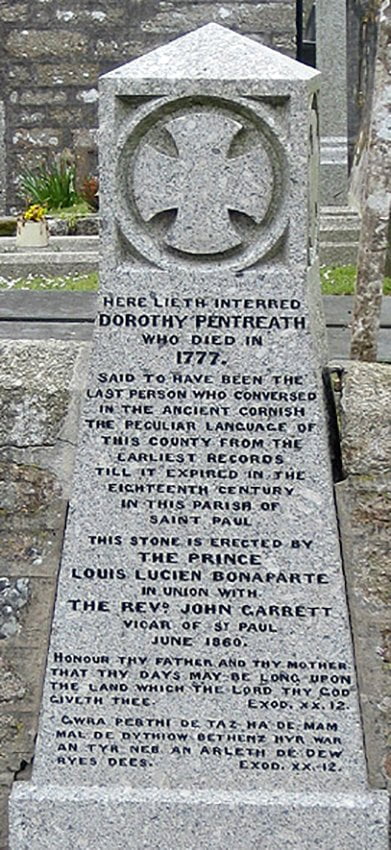 1768 Daines Barrington brother of the sea captain who had met a Cornish seaman who spoke Cornish in 1744, went to Mousehole where he met, Dolly Pentreath. He stated that she spoke in a language that sounded very like Welsh; she lived in a hut in a very narrow lane.
Two old women laughed when Dolly spoke to him, he said "Upon this I asked if she had been abusing me, to which they answered ' very heartily' because I supposed she could not speak Cornish." He stated that Dolly was short in stature, bent with age, and about 87 years. She still walked 6 miles each day, was very vigorous, although deaf. She was very poor, and when too old to hawk fish was main-tained partly by the parish, for-tune telling, and gabbling in Cornish. Peter Pinder a writer of that period, writing of Daines' visit to Dolly said "A very old woman of Mousehole supposed to be the last who spoke the Cornish language, so Daines Barrington entered Mousehole in a mood of triumph, making his way to Dolly's abode, where in peeping in he exclaimed in the lan-guage of a Greek Philosopher -'EUREKA!' he then kissed Dolly, who then gabbled to him in Cornish, he committing her speech to paper, not venturing to trust his memory with such treasure" . He then had a most eminent artist to paint Dolly's likeness; this painting is now in the home of Lord St.Levan, on St.Michael's Mount. One can imagine the old lady revelling in all the fuss concerning her.