WITH MR WILLY TAMBLIN AS OUR TEACHER WHO UNBEKNOWN TO ME AT THAT POINT SHAPED MY FUTURE.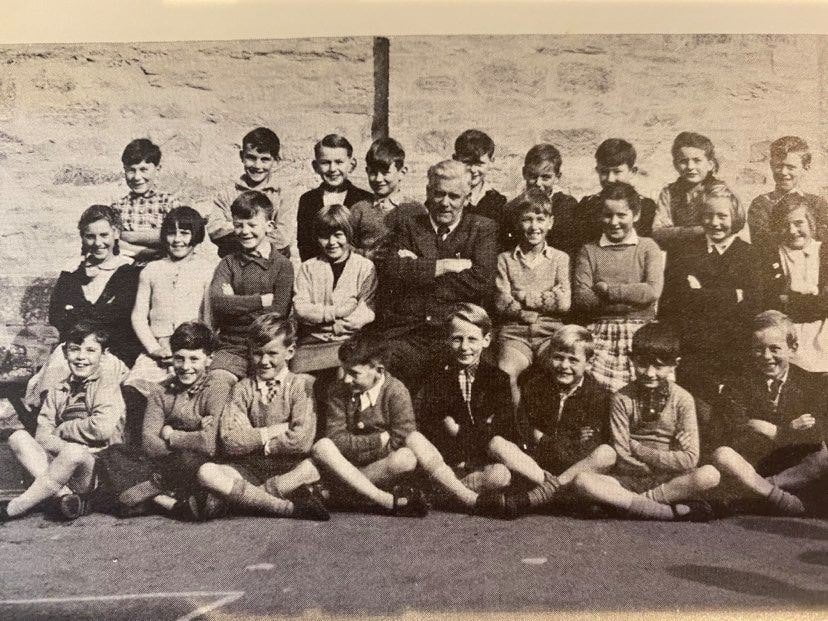 I had started school at Penwartha tucked away at the top of the Coombe of that name that runs back to the West from Bolingey, it was a happy place where one particular teacher, still teaching well past retirement age inspired me with his tales of Cornish history particularly the mines and the skills that they fostered.

Willy Tamblyn was a staunch Methodist, a local preacher who kept firm discipline but to this particular seven year old Cornish boy he was a hero.

He was friends with the legendary Donald Healey of Austin Healey fame who was a celebrated Perraner who had actually won the Monte Carlo rally in one of his works cars in 1931.

He was also an acquaintance of Winston Graham of Poldark fame, but clever as it was the Poldark saga was romanticised fiction, while we grew up in the real world of mine dumps and engine houses that he brought vividly to life for us in our lessons.

Winston Graham used to write his books in the famous green painted wooden hut overlooking Flat Rocks where a commemorative seat now stands, I have often wondered if it was actually Willy Tamblin who provided the background mining knowledge for him when writing Poldark.

We were taught the history of the local area, the significance of the local mines, particularly Wheal Leisure (of Poldark fame)and the potentially mighty Perran St George before the litigation involving a boundary dispute between them bankrupted both mines.

He described how the seine net boats once huddled together on their moorings in the scant shelter between the natural arch and Chapel Rock, even today some of the mooring rings can be seen near where the stepping stones cross the river.

We became junior experts on the drama of and chemistry involved in the manufacture of explosives in the Nobel works up at Cligga, as well as having a vivid mental picture of the schooners coming and going from the harbour at Trevaunance and how it was destroyed by a savage storm in 1917.

Much of this had been witnessed first hand by Willy Tamblyn as a younger man, so to me as an impressionable seven year old boy he was my living link with a local past that totally absorbed me.

But above all at every opportunity he hammered into us all what a privilege it was to be born Cornish and how we were all heirs to and custodians of a mighty heritage.

The history of England was barely touched upon during this most impressionable phase of my childhood.

He also made sure in the process that we became both literate and numerate, whenever possible he fostered a hunger for knowledge and in my case an innate curiosity about the world around me that has never left me.

To his great credit I am sure that my peer group benefitted as much as I did from Willy Tamblyns unique, albeit, by todays standards, unconventional but nonetheless highly effective style of teaching at that most impressionable stage of our lives.

Almost without exception we all went on to make something worthwhile of our lives and careers.