Cornwall was indeed a Dark Ages kingdom. Its last king, Doniert, contrived to drown himself in the 10th century and an inscribed stone still stands to commemorate his passing. Subsequently, Cornwall was even to acquire its own Parliament (known as the Stannary) as the commercial importance of tin became paramount to the English king's exchequer; and the Cornish language – not unlike Welsh – was deep-rooted and nurtured until well into the 18th century.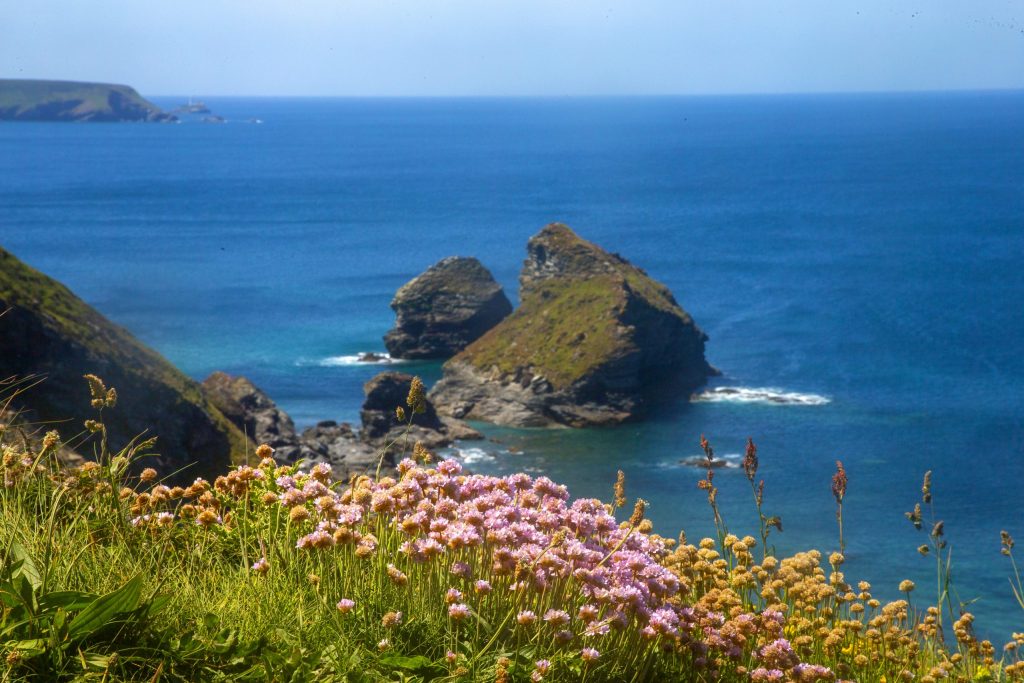 Evidence of Cornwall's Celtic past is to be seen at every turn: in the place names, in its literature, in its people and the very cadence of their voices; in the Celtic love of song and dance (for Cornwall is very much male choir country); in its traditions and heritage, culminating each year in the annual Bardic Gorsedd ceremony; in its culture, most notable blossoming each May with the Padstow 'Obby'Oss and Helston Furry Dance celebrations (originally , undoubtedly fertility rites); and in the fierce pride of the native Cornish in their identity and the separateness of their native land.
In the course of each year, Cornwall is the choice of more than three million holiday visitors. They come, of course, for all manner of reasons, at all times of the year and from every corner of the globe; but it is fair to say that a significant percentage is drawn by an inspiring natural environment. High on the list are the beaches, which match any in Europe, but climate, flora and fauna are equally irresistible lures.
In climatic terms, the benefit of Cornwall's geographical extremity, south and west, is further benignly influenced by the Gulf Stream. Cornwall uncoils into the Atlantic on its eastern edge, and the greatest benefits are felt in the winter. Frost and snow are rare indeed, and the mean temperature in Cornwall is similar to that of the Mediterranean resorts such as Nice, Naples and Corfu.
As a delightful consequence, Cornwall bursts into blossom with a kaleidoscope of sub-tropical blooms at an entirely un-British time of year. Its wildflowers alone attract countless early-season visitors, and in April and May up to 70 of the county's gardens open the public in what has become established as a highly successful Cornwall Gardens Festival.
Scant mention has been made of Cornwall's tin-mining past evidence of which, perpetuated by Winston Graham in his Poldark series, can be seen everywhere, nor of Cornwall's rich artistic and cultural associations. The transparency of the light, after all, led to the foundation of the renowned Newlyn and St Ives schools of art, and Barbara Hepworth set up her studio at St Ives. (Here too in 1992, the Tate Gallery opened its £3million annexe, at which its collection of Cornish art will be on permanent display.)
Cornwall is an ancient kingdom, mystic, Celtic and historic; for all practical purposes an island clinging to mainland Britain only by virtue of a precarious 40-mile handhold with Devon.
Of all England's counties it has the longest coastline – 327 miles if, as you must, you include its enchanting river estuaries and its countless creeks and inlets. Great granite cliffs withstand the pounding of the open Atlantic on its north coast; and the south is characterised by timeless fishing harbours, pastel-washed villages and wooded river valleys slipping languidly down to the sea.
Cornwall's relative remoteness means that over the centuries it has escaped many of the grosser indignities perpetrated in the name of progress or development. It remains rural and unfrenetic, a retreat and virtual time capsule.
Its great granite moorland, still dotted with the artefacts of the Iron and Bronze Ages, bear witness to the field patterns of the Middle Ages; its ports and harbours abound in period houses which would have been familiar to the likes of Drake, Frobisher and Raleigh. Its great houses stand in eloquent testimony to the opulence of its famous sons, the Treffrys, the Killigrews, the Robartes, the Godolphins, the Boscawens, the St Aubyns, the Bolithos.
It was in Cornwall that the Black Prince exerted his considerable influence from his impregnable castle hideaway; for the Normans were here and left indelible evidence of their building skills in a host of strongholds and churches. Before them, the Romans; before them, the Phoenicians and Beaker Folk. Throughout history, Cornwall's geographical vulnerability to seaborne invasion has imposed on its people a responsibility quite out of keeping with its economic or political importance. The first beacon warning of the Armada flared from the Lizard peninsula and was taken up by St Michael's Mount; and Henry VIII sorely pressed by Spain, France and the Pope built a battery of new-fangled fortresses to protect Falmouth Haven. They stand proud to this day.
Tintagel Castle, standing sentinel over a tumultuous Atlantic on the north coast, reflects an altogether different ideal; that of King Arthur, of Guinevere, of Merlin. For it was here, according to the 12th century scribe Geoffrey of Monmouth, that Arthur brought his knights of the Round table. This was Camelot; and he died in battle at nearby Slaughterbridge, his sword finding a final resting place in the pool of Dozmary.
Betjeman, amongst authors and poets, wrote prolifically about Cornwall (and is buried at St Enodoc, hidden among the sand dunes and within the sound of the sea). Daphne du Maurier equally demands a mention in a rollcall which embraces Virginia Woolf, Thomas Hardy, Kenneth Graham, D H Lawrence, Winston Graham, Howard Spring, E V Thompson, Sir Arthur Quiller-Couch, Derek Tangye, Anne Treneer, A L Rowse, Sir William Golding, Charles Causley, one of our own writers Michael Tangye and a host of lesser muses.
Welcome to Cornwall!
Or in the native tongue of this ancient land,
Kernow a'gas dynargh!