The Great Exhibition of 1851 held in the Crystal Palace at Hyde Park, as a symbol "of British greatness and prosperity", caused great excitement throughout Britain. Cornwall was at that time at the height of its industrial activity with mining as the central theme, supported by a host of subsidiary industries – fuse making, foundries, etc., and Cornish granite and slate quarries provided vast quantities of material for bridges, buildings and memorials in London, and elsewhere. At Hayle the great Harvey's Foundry had received wide recognition for its pumping engines which had de-watered large areas of Holland and mines throughout the world. All of this great industrial activity produced a high degree of engineering skills and a wealth of inventiveness among the Cornish who were only too eager to join in this collective display to the world.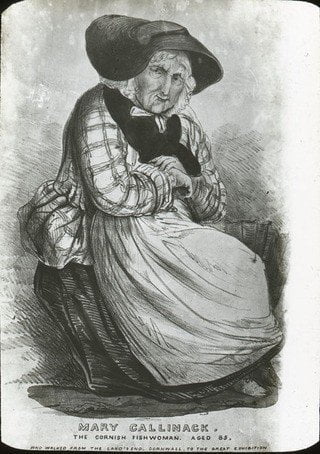 In West Cornwall the local newspaper of that period. the Cornish Telegraph reported on the activities of the Penzance Serpentine Works situated at Western Green, between Penzance and Newlyn. Their highly decorative and polished serpentine wares had already been purchased by Queen Victoria and Prince Albert on their 1846 visit to Penzance for display at Buckingham Palace. Both had been so impressed by the richness of the material that they had visited the Lizard on their voyage round to Falmouth. More items were subsequently ordered for the royal palace and the fame of their products subsequently spread to the nobility of the land, who purchased items for their mansions. They had now chosen to make seven specimens for the exhibition. To illustrate the process of serpentine working, from its crude state to the finished product, they prepared a huge squared block of red serpentine, 7ft 6ins high and three tons in weight; one face was left rough, one sawn, a third roughly ground, and the fourth polished. Two obelisks of red, set on plinths llft high, from the design of the Luscor in Paris, a large font of green and red serpentine on fine pillars, a mantelpiece, two highly polished columns, each surmounted by a vase, and three chess tables with the squares of red and green serpentine with white steatite. A cabinet of smaller items was also to be exhibited. Preparations were also taking place at Lamorna in the freeman-owned granite quarry. From a massive block of granite 20ft. wide and l5ft. thick, a tall obelisk had been produced. Over 24ft long, squared, 3ft 8ins wide at the base, tapering and truncated at the top, a team of masons had carefully shaped and dressed it to perfection – but now came the problem of shipping it to London for the exhibition. The little harbour had not then been constructed and the heavy granite products were lowered into barges and vessels from a jetty of heavy timbers and iron which extended from the centre of the cove into the sea. To cope with the immense weight of the obelisk, two huge shear-legs, each 57ft long, fastened together by a strong chain, were erected and fastened by chains to rocks in the cove and on the shore. Other shears combined with a powerful crane, normally used at the site, using chains to raise the great obelisk.
Lifting commenced at 10.30am., and by 1.30pm. it was raised to the necessary height. The vessel waiting to take it was then hauled under the shear legs and the great block was gradually lowered into her, only causing some slight damage to the bulkhead of the cabin. Once safely on board it was shipped to Penzance pier where it lay all the next day for public inspection.
One of those whose imagination had been fired by all this activity was Mary Kelynack of Newlyn, an elderly lady of 84 years. S. Baring-Gould, in his Cornish Characters and Strange Events tells us that she was born at Tolcarne, in Madron, in 1766, the daughter of Nicholas Tresize, to become later the wife of William Kelynack.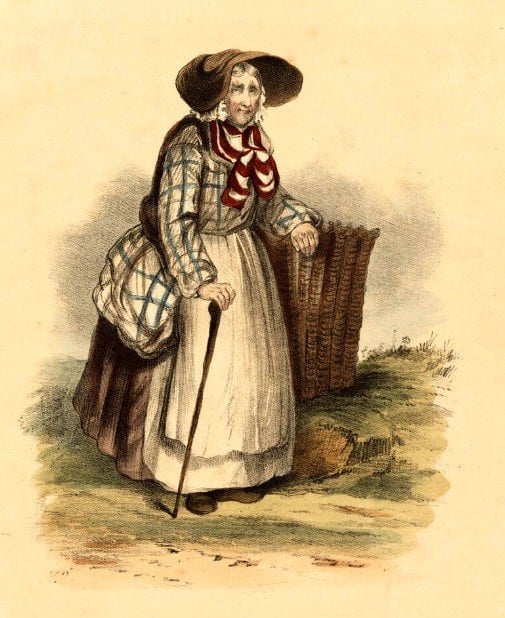 Like other women dwelling in Cornish fishing communities she was self-employed as a "back-jowster", or fish hawker, an occupation requiring both strength and stamina, carrying, as they did, a large "cowel", or back-basket, of wicker-work filled with fish and supported by a band passing back from the fore-head. Such "back-jowsters" walked many miles to inland communities to hawk their fish, and in times of shortage would walk to remote coves when catches were made there. Widowhood forced many to continue with this strenuous occupation into old age; by 1851 Mary was typical of these, her naval pensioner husband having passed away.
We can imagine her visiting the Serpentine Works at Penzance to see the exhibits before they were sent to London, and joining the mass of people who gathered at the quay to see the great granite obelisk. All this activity made her decide to walk to London to witness first-hand the great event which was taking place – an incredible feat to contemplate for such an elderly woman who had probably never travelled beyond West Penwith. It was reported that on hearing of her proposed journey a bet of £20 was made between two parties on her chances of accomplishing the feat, one half of which, should she succeed, she could claim on her return to Penzance.
Mary could not travel by train from Penzance. Although it was then being constructed by a host of Irish navvies there was no railway at that time beyond Hayle to the far west. She might have even seen the great railway engineer I.K. Brunel who visited Penzance that June to supervise and observe its progress.
She could have travelled on either of the steam vessels Devonshire or City of Limerick which ran excursions from Penzance to London; a return ticket as a deck passenger would have cost 15/ – but she chose to walk due to her poverty.
We do not know when she commenced her journey but by mid-July it was reported that she had arrived at Ringwood, in Hampshire "enroute to London to see the Queen and the Great Exhibition" dressed as a "back-jowster", carrying her basket. Her dress would have consisted of a large shepherd's hat of black beaver, a gaily coloured calico jacket, a coarse flannel skirt, an apron and buckled shoes. Her neat and clean appearance had attracted the notice of many of the gentry, and others, of that neighbourhood, from whom she continued to beg occasional contributions as she passed along, relating to them the story of her journey from Paul to London.
The Cornish Telegraph recorded Mary's activities on her arrival in the capital, quoting from numerous London newspapers, which remarked on her incredible performance of accomplishing the journey in five weeks as being "a curious illustration of the desire felt among the humbler classes in the provinces to see the Exhibition".
She was now obviously quite a celebrity, as the Times even published her London address – 12 Homer Place, Crawford, St. Marylebone. Reporters followed her to the Mansion House on September 24th where she joined other visitors to pay her respects to the Lord Mayor and Lady Mayoress: "As soon as the ordinary business was finished the aged woman entered the justice-room where the Lord Mayor addressing her, said, 'Well, I understand Mrs. Cullinack you have come to see me?' She replied, 'Yes. God bless you! I never was in such a place as this. I have come up asking for a small sum of money. I am 84'." (The English reporters obviously had problems with her Cornish name Kelynack!)
On asking where she came from, and why she had come to London, Mary replied, "'I had a little matter to attend to, as well as to see the Exhibition. I was there yesterday and intend to go again tomorrow.'
`What do you think of it?'
`I think it's very good' – much laughter."
She then said that all her money was spent but five-and-a-half pence. After more conversation, which caused considerable merriment, the Lord Mayor made her a present of a sovereign, telling her to take care of it, there being many thieves in London. On receiving it Mary burst into tears and said, "Now I shall be able to get back."
She was afterwards received by the Lady Mayoress with whom she remained a long time, and having partaken of tea in the housekeeper's room, returned thanks for the hospitality she had received, as it was the first tea she had drunk for sixty years – and then left for the exhibition.
Curiously, the highlight of her visit was not reported in the Cornish Telegraph – her presentation to Queen Victoria and to Prince Albert. However, Victoria recorded the occasion in her diary, which was later published: "The old Cornishwoman who walked several hundred miles to the Exhibition was at the door to see me, a most pale old woman, who was near to crying at my looking at her."
A reporter of the Illustrated London News noted that Mary possesses her faculties unimpaired; is very cheerful, has a considerable amount of humour in her composition, and frequently makes remarks that are very shrewd, when her great age and defective education are taken into account. She is fully aware that she has made herself somewhat famous; and among other things which she contemplates, is her return to Cornwall, to end her days in 'Paul Parish', where she wishes to be interred by the side of old Dolly Pentreath, who was also a native of Paul, and died at the age of 102 years.
Having had her fill of London and the Great Exhibition, where the French section was her favourite, Mary returned to Cornwall in mid-November, travelling to Exeter by train. A Mr. Proctor of Launceston had written to her whilst she was in London, offering her a seat inside the Times coach from Exeter to Truro. free of charge. He and two other gentlemen, Messrs Pratt and Lenderyou, entertained her on the journey. At Launceston she was met by the mayor and a large gathering of ladies and gentlemen and entertained at the White Hart Hotel, where they gave her money and gifts. She eventually left Truro, for the west, on the 14th November, with a large ermine tippet draped over her shoulders, a gift from a lady in London!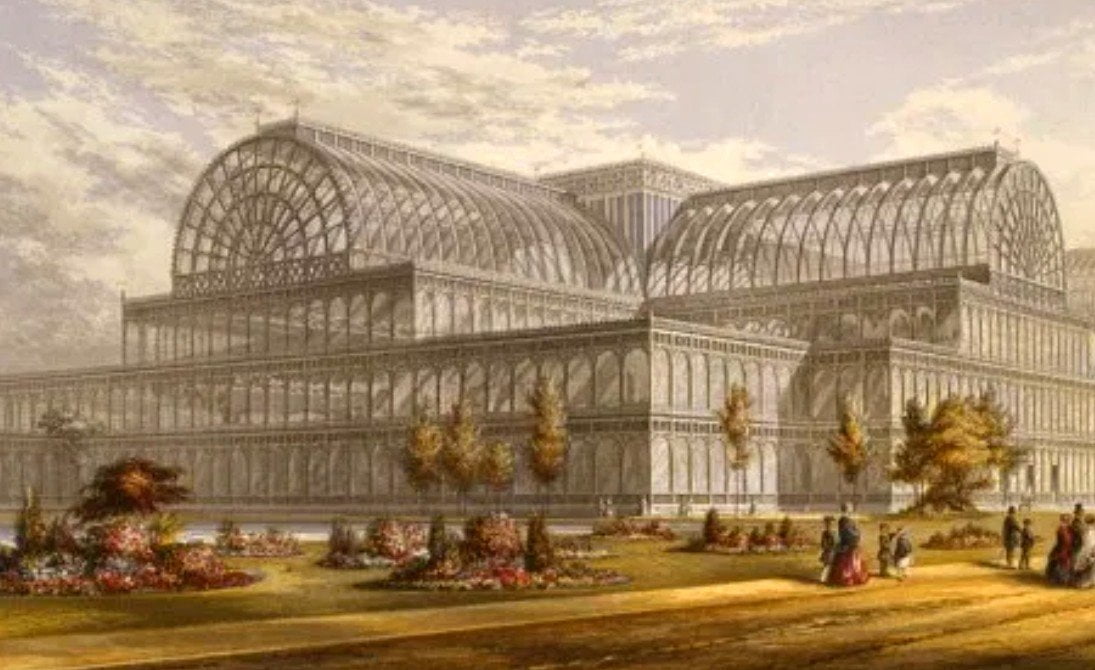 On her arrival at Penzance her visit and meeting with the Queen and Lord Mayor were never ending topics with her; they formed for the next four years "her stock in trade by which many a morsel and many a penny were raised".
Early in January 1852 she received a beautiful Bohemian vase sent by a Mr. Levin from Worcestershire. Sums of money had also been left on the Serpentine stall at the exhibition for her benefit. These were collected by a Mr. Pearce, a Cornishman employed in the Metropolitan Police, and forwarded to Bolitho's Bank. This provided her with 5/ a week for a long period, and then 3/ a week.
Mary Kelynack eventually died on 22nd November 1855, at Dock Lane, Penzance – her obituary says she was 86 years of age, but she was 89 years: Mary was better known among her neighbours as Mary Tresize. Her habits were not so regular; and the notice she attracted at the Mansion House, the Great Exhibition, and the Metropolis generally did not tend to sober her down after her return. It was not very long since we saw her hobbling on with the large fur tippet some lady friend had given her in London. But the old woman who braved the 300 miles of road which separates us from London had a sterner task to avoid the grasp of the Destroyer; and Mary is at last gathered to her fore-fathers, those true Cornishmen amongst whom a language now unknown lingered longest.
Mary was interred in an unmarked grave in St. Mary's churchyard, Penzance.