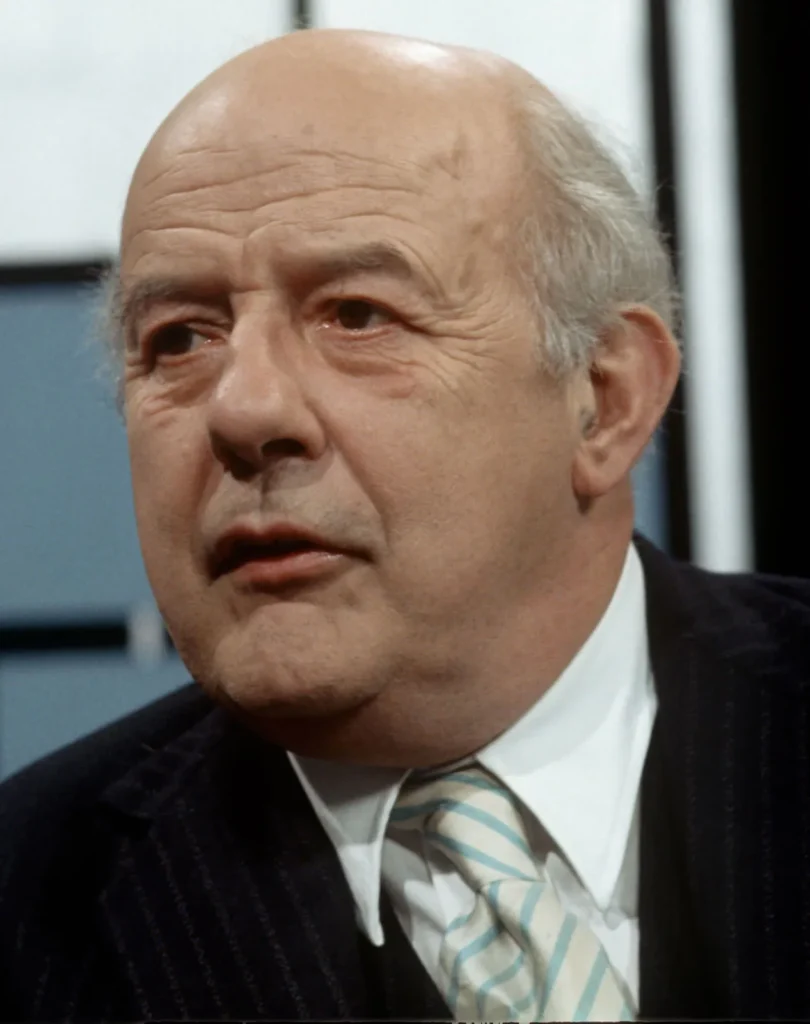 Although John Betjeman, best known of Britain's Poets Laureate, was not a Cornishman, he made one area of the county his own. The villages and countryside of North Cornwall centred around the towns of Wadebridge and Padstow have been immortalised in Betjeman's verse. A book of private letters was published in 1995, edited by Betjeman's daughter, Candida Lycett Green, which is interesting in that it throws light on a lesser-known side of the poet's life and character. However, I have enjoyed far more his long poem, Summoned by Bells. The 1989 edition illustrated by Betjeman's friend Hugh Casson is a special delight. Together the words and pictures exquisitely conjure up the spirit of North Cornwall. In the book Betjeman describes his childhood delight in journeying to Cornwall, racing across familiar beaches, the tide flowing in to welcome him and the driftwood like strange reptiles on the shore. He describes the carefree world of the child, when every day seemed happy, and tears were few. Happily, for those wishing to explore North Cornwall, it is blessedly unspoilt and uncrowded. Here are empty beaches, moorland bleaks in winter, but in summer having a special charm, tiny clusters of houses built of local granite and ancient churches of the same unforgiving stone. Starting in the market town of Wadebridge, first look at the buildings of the old railway station which have now become the Betjeman Centre, providing a meeting place for local senior citizens and for visitors, a display of Betjeman memorabilia and an art gallery where frequently very good exhibitions of painting, drawing, photography and pottery are mounted. A walk in either direction from the Betjeman Centre will take you along the Camel Trail, a riverside walk from which bird and plant life may be enjoyed, as can the river in all its moods. You may like to try, for coffee or lunch, the restaurant at the Trelawney Garden Centre just outside the village of Egloshayle (the church by the river in the Cornish language), really an extension of Wadebridge itself. Here the jovial chef, Derek Swann, having escaped from the rigours of a hotel kitchen, has built up a wonderful reputation at Sladesbridge. His welcome will be just as hearty whether you call in for a quick coffee or "the full works". His cakes and confections are out of this world as well as being of generous proportions. His lunches are fantastic, especially on Sundays, and if you can get into one of his Friday night Gala Dinners you are indeed lucky. Suitably refreshed, make for the historic town of Padstow, which stands at the mouth of the Camel, look-ing across the estuary towards the sailing resort of Rock. Popular as it is, Rock still manages to keep its character and is small, intimate and friendly. A feature of life here is the occasional art exhibition put on by private individuals in their gardens. Padstow itself has many interesting slate-hung build-ings, one of the oldest being Abbey House on the quay. It has also many quaint customs, the most famous of which is the `Obby `Oss ceremony which heralds in the summer on May 1st, when all of Padstow and thousands of visitors let their hair down. Standing on the quay at Padstow you will be at the start of the Saints' Way, a 26-mile track finishing in Fowey, originally used by Bronze and Iron Age traders as a short cut avoiding the dangerous seas around Land's End and later used by Celtic Christians who built churches, cross-es and holy wells as they travelled. It is an enjoyable experience to traverse Cornwall along this route, as it passes through much of interest in the county. Having enjoyed a walk round the harbourside and the 15th century church of St. Petroc (Padstow was formerly Petrocstow)', look for another superb restaurant – that of TV chef Rick Stein at his deservedly world-famous Fish Restaurant at Riverside.
Visit Prideaux Place, famed for its deer herd and for the fact that it is one of few such houses still to be occupied by members of the family for whom they were built. Padstow is also famous for the Doom Bar, a huge bank of sand that all but blocks the entrance to the harbour and has caused many a fishing boat to founder and has left many a family in Padstow fatherless.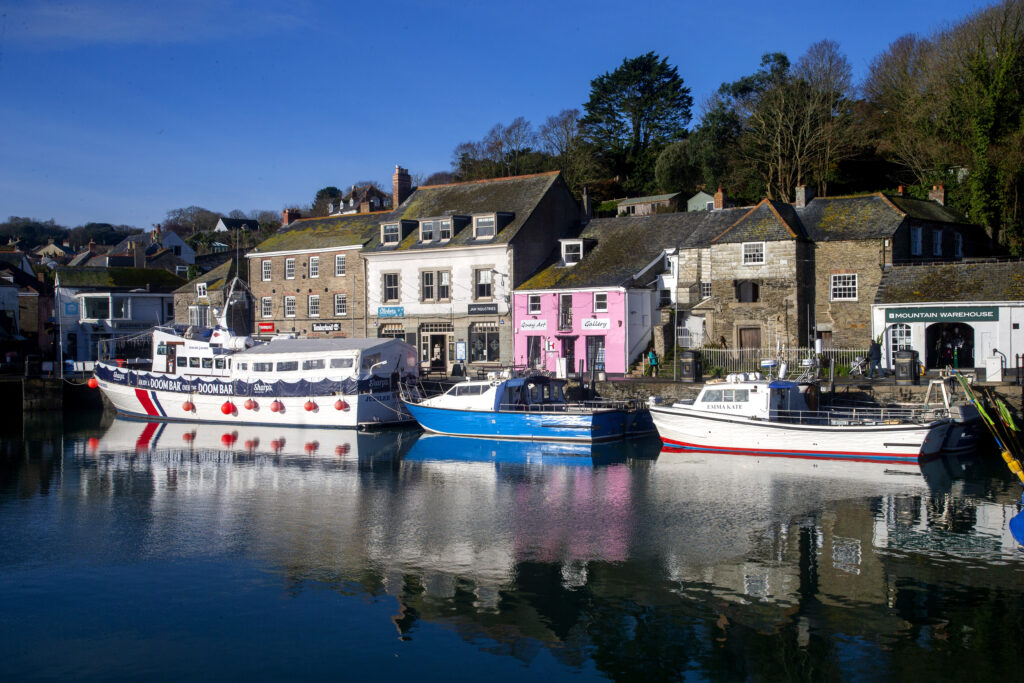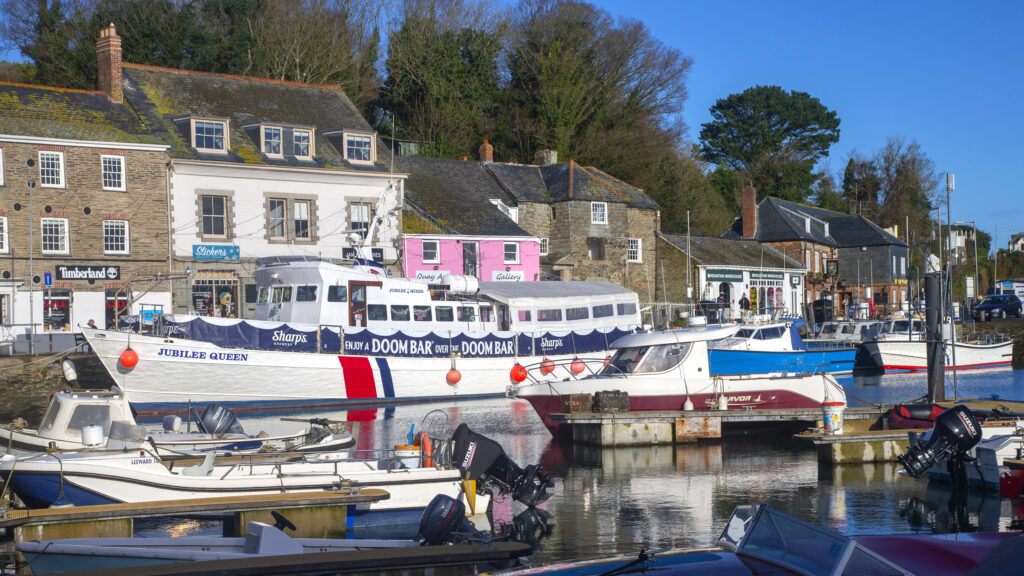 North Cornwall abounds in tiny villages, each with its own unique small church and a pub where you can enjoy genuine Cornish fare – mackerel or perhaps a real Cornish pasty – for surprisingly little. Prettiest of these is Little Petherick (St. Petroc again), where an inlet of the Camel River is home to myriads of duck, waders and sea birds and a crowd of picturesque cottages surround the old mill stream; St Issey has a good pub, The Ring o' Bells and a very interesting antique shop; St. Breock is the parish church of Wadebridge; St. Minver church has a unique crooked tower; St. Mabyn, Port Isaac, St. Endellion, there are plenty of saints in this area, many of whom sailed over from Ireland on various strange craft, including mill wheels. Take the opportunity for a good beach walk as many of Cornwall's best stretches of sand are on this coast. On a stormy day when the seas will bring your heart into your mouth with their splendour. Be sure to see • Trebetherick where Betjeman spent many holidays and lastly, make a pilgrimage to St. Enodoc, the little church buried for so long by the encroaching sand, and in its graveyard pay homage at the graveside of a man who truly loved Cornwall.