Cornwall's mining history is well known, and hundreds of books have been written on most aspects of what is undoubtedly an impressive story. Although there is a general awareness of the great network of drainage tunnels which spread like webs throughout all of our ancient mining regions, the truly massive engineering achievement that these tunnels represent is not always appreciated.
Gwinear Deep Adit, driven in the eighteenth century from Binner Bridge, nearly a mile south of Leedstown, cut through over three miles of country rock before coming home to the mines it was to drain. In total the adit has tunnels extending over a distance of some fifteen miles. Mines as far away as Relistian and Parbola were affected by this undertaking, which saved adventurers in these mines the equivalent of millions of pounds in pumping costs.
The main tunnel of the Enys or Kestrel Adit, in the Rellubus district of Penberthy and Carbis, which outflows into the River Hayle near Carbis Mill, is some three and a half miles long, and has no less than 63 ventilation shafts along it. This is an area which is not generally seen by newcomers as a mining district.
Dolcoath New Deep Adit, which was extended through Rokear into Dolcoath and Cooks Kitchen in the 1760s and 1770s currently, has over three miles of adit still draining shallow levels above the workings of South Crofty. One hundred and fifty years ago it had twice that length of adit in operation. At least five older and shallower adit systems exist at Dolcoath and its immediate neighbours, some of which remain (to some extent) in their original condition. The section below Roskear Croft, from the portal, was probably driven in the seventeenth century, and the pick and gad marks are still visible.
Perhaps the most famous and certainly the most successful adit in terms of rich lodes intersected, was Pool Adit, which still serves the eastern and central sections of South Crofty. Started in 1710 from the valley below Tuckingmill, this adit eventually reached a length of one and a half miles and drained some of the most successful copper mines of the eighteenth century. It quite literally turned the Bassets from quite a modest gentry family into one of the wealthiest in the south west. The shallow copper lodes cut produced profits for the Bassets of 110,000 in just ten years – a fortune for the 1740s!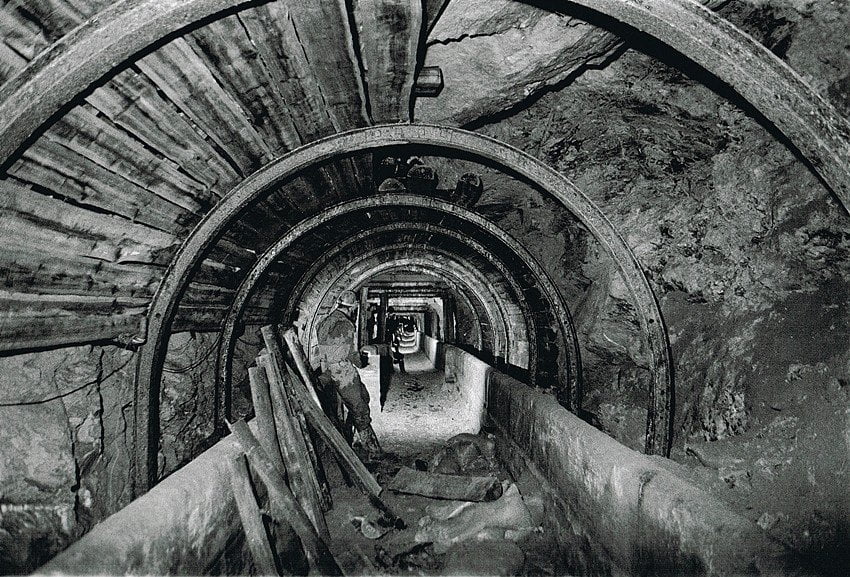 Barncoose Adit, also known as Tolskithy Adit, which was driven from the valley beneath Blowinghouse Viaduct. at Wheal Raven, extends to the south for a mile and a half, taking it right beneath the earn to South Carn Brea Mine. Branches into Cam Brea Mine from Wheal Druid, east and west into Barncoose Mine, east into Wheal Tehidy and west into Wheal Fortune, make it an
important part of South Crofty's drainage system. The principal adit tunnel was driven in the first part of the eighteenth century, although the lower end is of seventeenth century construction, and still, as in Dolcoath New Deep Adit, bears the tool marks of pre-powder technology.
It is common for the adits of St. Just, St. Ives and Carbis Bay, St. Agnes and Perranporth to have portals which are highly visible, either halfway up cliffs or at beach level, and the adits of the coastal mines can be as impressive as those inland, although usually far shorter.
There is little doubt that the "Daddy" of them all is the Great County Adit. This adit system, started below Nanjiles in 1748, was driven over a period of some eighteen years to the western end of Poldice Bal: some two and a half miles. The "Great" Mr. William Lemon, grandfather of the baronet, Sir William Lemon, paid for most of its construction, and his manager at Poldice, Captain John Williams, who had conceived the idea, supervised its construction. Once the adit was past Haile Mills, a branch was driven into Consols, on to United Mines and thence to Wheal Squire and Carharrack. When the main tunnel reached the eastern side of Poldice, a branch was driven into Creegbrawse, and then to Chacewater (Wheal Busy) and all of the North Downs mines.
By 1800 this enormous undertaking drained over fifty mines in five parishes. It drained an area of some twelve square miles and extended over a distance of twenty-eight miles; the furthest point from the portal being Cardrew, in Redruth, over five and a half miles from the portal. At its deepest, at Wheal Hope, the adit is over 400 feet below surface. By 1880 extensions had lengthened the County Adit to some forty miles, had drained over sixty mines and an area of sixteen square miles. Its branches thrust deep into St. Agnes Parish at Stencoose and Mawla, into Kenwyn, at North Wheal Busy, into Redruth, to the west of West Wheal Peevor, and to the edges of Gwennap at Pennance. Such was the importance of the Great County Adit, economically, that for a period of some 160 years few of the great, deep copper mines of the region it served would have been profitable without it.
The County Adit continued to play a crucial role in the mining industry's survival until the 1920s, when Killifreth and Wheal Busy ceased operating. In the 1930s, when Mount Wellington briefly re-opened. and in the 1960s, when Wellington and Wheal Jane began preparations to re-start mining in the district, the County Adit was again of importance, and until Wheal Jane's final closure in 1991, it was crucial to its economic working.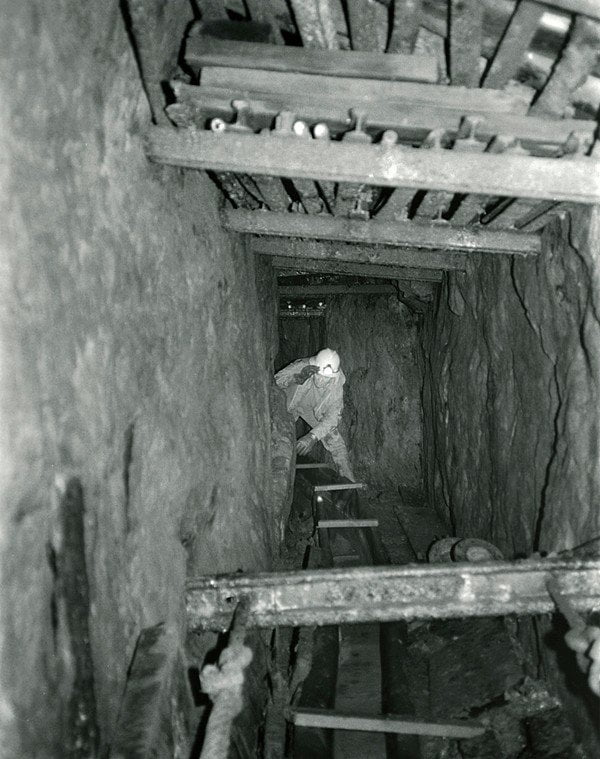 Adits have been driven to drain infiltrating surface water from mine workings since the dawn of history. Egyptians, Greeks and Romans all used adits for drainage, and it is appropriate that the earliest written reference to them is in the Book of Job, in the Bible. In Cornwall, adits were recorded in Medieval times and the accounts of the royal silver mines, on the Tamar at Bere Alston, describe their construction and use. Currently, at South Crofty, hundreds of thousands of pounds per annum are saved in pumping costs, by the inexpensive and efficient use of the mine's ancient adit systems.