This article was first published in Cornwall Today in1996.
W.J. Burley  sadly died 15 November 2002 in Holywell, Cornwall (aged 88)
Television has brought an added dimension of fame to the writings of W.J. Burley. Since Wycliffe emerged on the small screen, his creator's books have been in even greater demand. To be fair, an hour-long television slot (discounting commercials) is not really long enough to develop the plots and characterisations of these novels, which makes reading the books even more worthwhile.
Of course, television was not John Burley's first introduction to fame. He told me how an American university bought some of his original manuscripts many years ago. This surprised him at the time, but the American academics may have been looking into a crystal ball.
Detective Chief Superintendent Wycliffe is to W.J. Burley what Maigret is to Simenon. But, when I interviewed this author at his home in Holywell Bay, John Burley told me he had been influenced particularly by Simenon's non-Maigret novels.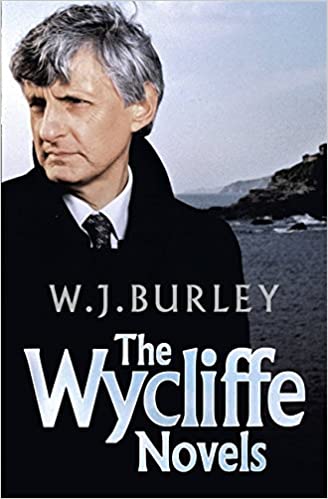 "Nicholas Freeling's novels had an effect on me too. I was attracted by both authors' insights of humanity." John Burley has not always been a writer. He was born in Falmouth in 1914 and spent most of his working life in Cornwall. In 1931, he became a pupil gas engineer, eventually progressing to the management of various gas installations in the areas. Nationalisation of the gas boards changed John's direction in life and, at thirty-six, he went to Oxford and took a degree in zoology. As a teacher, he was forced to take a post in London after qualifying, but later managed to return to his native Cornwall as a teacher at Newquay Grammar School.
Nine years before he retired from teaching, John started writing. His first novel A Taste of Power, was published by Victor Gollanz in 1966. This was quite an achievement for someone whose only previous experience of writing was a few unpublished stories written in his teens. Since then John hasn't looked back.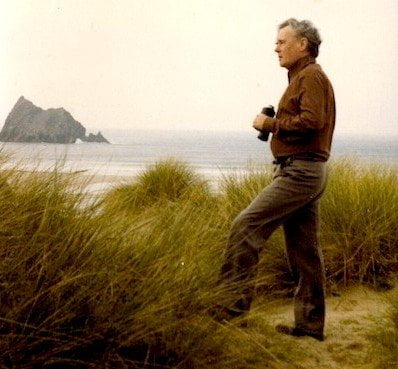 "Gollanz have looked after me," he explained. "I have never needed an agent. They publish one novel a year but prefer me to stick to crime novels." His first Wycliffe novel was published in 1968 – Three-toed Pussy – and with the success of this series, the publishers decided that the name of Wycliffe should be included in the title of later books. Thus W.J. Burley's detective entered the list of famous sleuths who began with Sherlock Holmes and have continued through each decade of popular crime fiction since then.
Most of the Wycliffe novels are set in Cornwall and the few exceptions only move as far as Devon. Part of the enjoyment of reading these books, as a local, is in identifying the settings. There are always plenty of clues, but in the novels, I have read so far, the actual place name is not mentioned. It is always "the town" or "the village". John refers to other towns and villages in the area and the Corgi editions feature paintings from life of the actual settings of each novel. For the author, this lack of complete identification allows some licence when describing a place. A setting can be fictionalised a little; a street can be moved slightly or renamed.
In Wycliffe and the Tangled Web, for example, the setting is Mevagissey. John explains this in a brief foreword, excusing the topographical changes as a deliberate policy. After all, this is fiction, and he would not want his readers to think that the serious crime rate in Cornwall is greater than anywhere else in the country! As with John's other novels, I thoroughly enjoyed reading this book, especially as there were so many twists and turns in the plot. I was completely unable to identify the murderer until the very end of the book, and this to me is the pivot of success of detective fiction.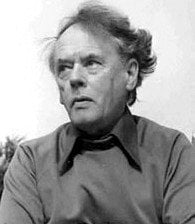 Not all John's work has been in the same vein. Science fiction, mystery and Gothic novels have been produced occasionally, and it was one of these which really caught my imagination. Charles and Elizabeth is described as a Gothic novel, but it is something more than that. It introduces another dimension to the action, one which may or may not be in the mind of the hero. For anyone who has read and enjoyed Daphne du Maurier's The House on the Strand or Elizabeth George's The Middle Window, this book is a must. I only hope John will produce more of this type of novel in future.
Unlike many authors, John does not stick to a regular routine. His only concession to this is that he tries to write a little each day. He writes as and when the mood takes him, producing one novel a year.
"I am retired." he insisted, a twinkle in his eye. "But I've always written well under pressure. This conjured up visions of his scribbling through the night to meet a deadline.
In fact, there isn't any scribbling involved as John uses a word processor. But he always writes the first paragraph of a new novel on his typewriter. Before moving into the age of computers, John used to write the first paragraph in longhand, then take up the story on his typewriter.
His wife, Muriel, has lived in Cornwall since she was a child. She sees herself as Cornish, but John will not accept that, being a Cornishman born and bred. However, he told me she is an excellent critic, even though she does not write herself.
"She can always spot where the plot goes wrong." He went on to explain how the plot can change from his original draft. "I sometimes have to rewrite because the identity of the murderer has changed." It seems that part way through the writing, the characters take over and sometimes go in a different direction to that in which John intended them to progress. This is not as unusual as it sounds but something he has in common with many authors, including such well-known names as D.H Lawrence.
Writing does not take up all of John's time. He collects history books. "As a zoologist, I see social history as a continuation of the evolutionary process." Approached in that way, it also provides useful background for some of his novels. He also admitted to dabbling in paint. Muriel paints well, both water colours and oils, and John proudly showed me several of her paintings.
John and Muriel have lived for thirty-two years in their detached bungalow above Holywell Bay, but bemoan the fact the no one else in the area knows them. Almost everyone else is new!
At present John is working on yet another Wycliffe novel: Wycliffe and the Redhead. He says he is a little slower these days but that can be excused a working man of 83! I shall continue to read John's novels for as long as he continues to produce them and, at this rate, he looks like carrying on for ever.