These stories I have had in a waiting area for many months, it is about time they were seen.
They are from a book "Tales of Twickenham" that I conceived, researched and jointly published. It was about Cornwall beating Yorkshire in The 1991 County Championship final at Twickenham.
I very pleased to say I am still friends with some of the players and officers, more than 30 years on from 20th April 1991.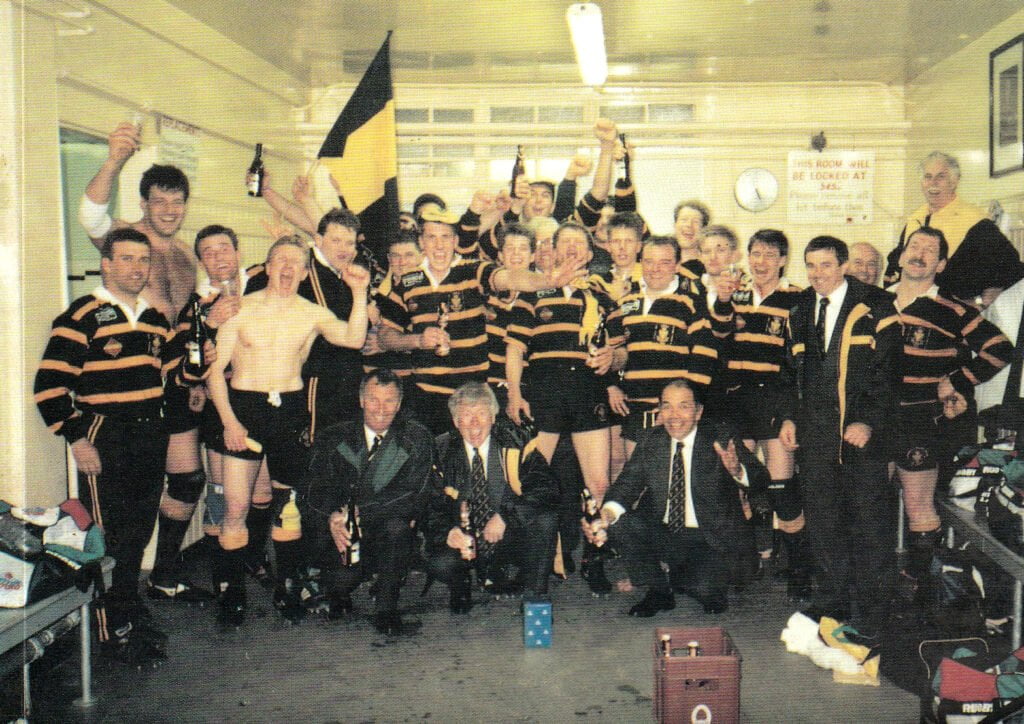 STORY ONE – TALES OF TWICKENHAM.
Cornwall has a lot to answer for in the world of Rugby Union Football. On April the twentieth, 1991, it destroyed one third of a triplet of truisms, reducing it to a couple of constants.
The triplet was known by anyone capable of recognising a rugby ball: Twickenham is the home of Rugby Union Football; it holds almost sixty thousand people; and it's never full apart from international matches, and the odd appearance of the Barbarians.
(Barbarian appearances are, incidentally, extremely odd. They often involve a strange unrecognisable form of rugby football, in which the ball is thrown from player to player, each player in turn running and side-stepping in an apparent attempt to entertain the spectators. Very old gentlemen, often wearing fingerless mittens, nod wisely and tell us that this is how the game should be played. But it never is, apart from during those odd Barbarian appearances) but I digress.
On April the twentieth, 1991, Cornwall destroyed the notion that Twickenham is never full apart from internationals and the odd etc.
On that memorable spring day more than forty thousand Cornishmen and women, every single one of them wearing black and gold of some description, packed into H.Q.. They were joined by a smattering of people wearing blue and white favours (they were supporting a county called Yorkshire, whose players were to fill a vital role in the afternoon's proceedings), and by an even smaller smattering of supporters intent on cheering teams involved in the warm-up matches.
Twickenham was full and there wasn't an international match or an odd Barbarian appearance in sight.
No aspiring fiction writer in his wildest moment would have dared pen the tale of what happened next. It's history now, of course, but in the weeks and months that followed that incredible day a stream of stories, some unbelievably true, some apocryphal, emerged from the bars and rugby clubs of Cornwall.
In "Tales of Twickenham" we have attempted to immortalise a few of those tales. To the very best of our knowledge, only the true ones have been included.
STORY TWO – THE CAPTAIN'S TALE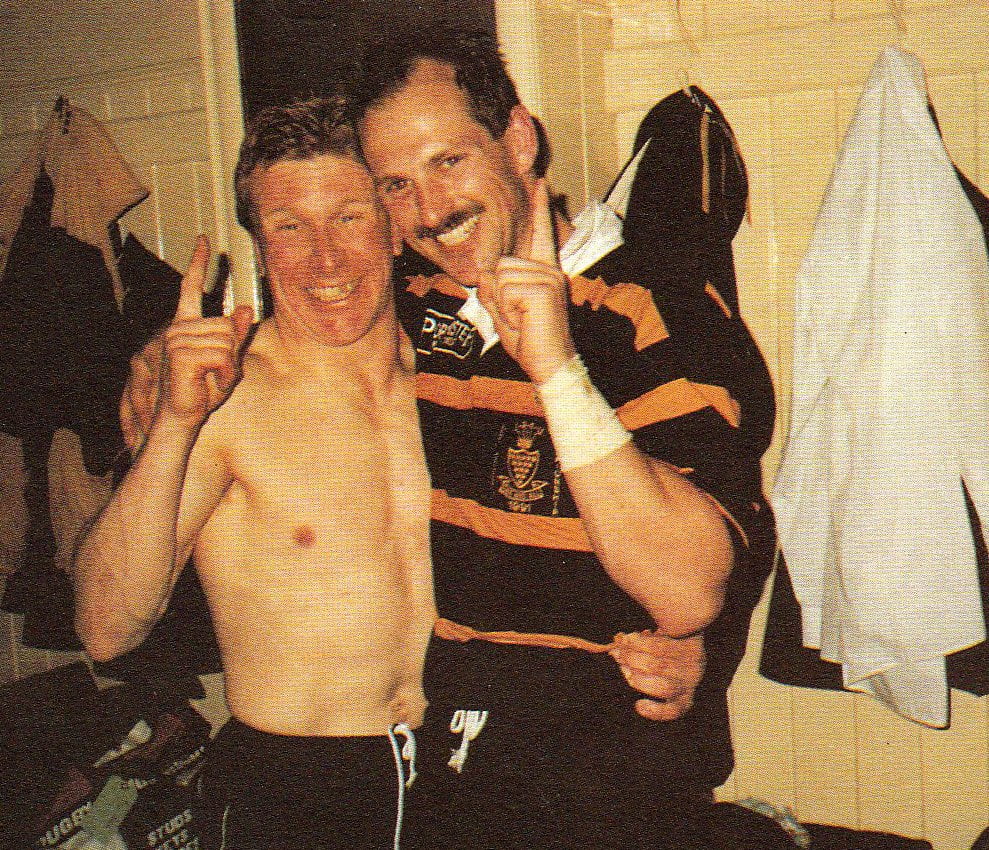 "I could have cried all day…."
It was a sunny Sunday afternoon on the island of Jersey. Holidaymakers were making their ways to the beaches, or simply enjoying a snooze in the hotel lounge. It was a day to savour, as back in Cornwall thousands of supporters gathered in the centre of Truro to welcome home their heroes. But for one man — Cornwall's captain Chris Alcock — it was one of the worst days of his life.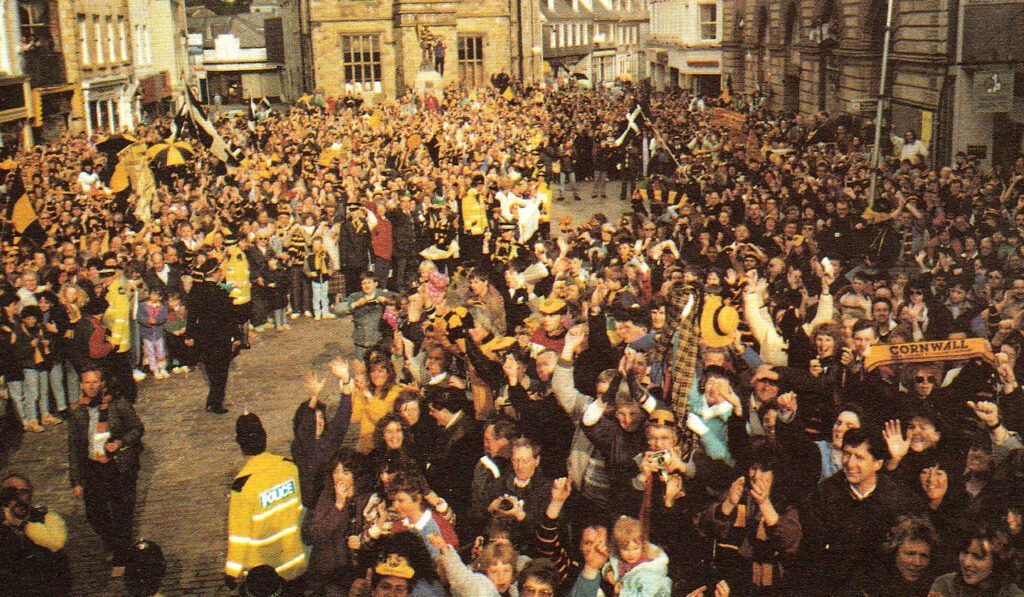 Chris, his wife Pam, and the rest of their family, had booked a holiday on Jersey to begin the day after the championship final. It wasn't particularly that he'd have chosen to do so, but as a Royal Navy officer, Chris had to fit the holiday in with his duties.
Chris, of course, suffered a ligament injury early in the final, and although he played on into the second half, he eventually had to leave the field to be substituted by Exeter wing Mark Chatterton, The captain, whose leadership had so inspired the team throughout the season, was forced to miss what turned out to be one of the great sporting come-backs of all time.
It affected him deeply. At the after-match dinner, he says, people were flocking to congratulate him. His thoughts at that moment? He says the one recurring was, "Is it really me they should be thanking? I was the one who missed the great revival." He claims the one thing which stopped him slashing his wrists at that point was the thought of Cornwall's supporters.
"That was the bottom line," says Chris. "Those wonderful supporters had satisfied their day. They'd got what they wanted so badly, and we'd given them something which they really deserved." And that was what the captain of Cornwall said in his after dinner speech. "This isn't the team's trophy," he told the assembled hierarchy of the Rugby Union. "It belongs properly to the people of Cornwall — the best supporters in the world."
Chris, his wife, and their children left Twickenham shortly after nine o'clock on the Saturday evening. His foot by this time was swollen to almost twice its normal size, but he drove home to Camborne, arriving sometime after two o'clock on Sunday morning.
But he couldn't get into the drive of his house. It was criss-crossed with black and gold ribbons and banners of congratulations. "The house was covered from top to bottom in black and gold bunting. It was the final straw at that point, and I just burst out crying," he said.
Ten minutes later the family was asleep, but everyone was up again at five o'clock to pick up other family members and head for Plymouth airport. At a quarter past eight their flight took off for Jersey. A little over an hour later they'd arrived. Cars to be collected and signed for, a drive to the hotel, breakfast to be eaten, the children to settle in. It was early afternoon before Chris Alcock had a minute to relax virtually the first minute of peace and quiet since the match the previous afternoon. And that was when it really hit him.
Chris takes up his own story, "It was about two-thirty. I just sat in our room….I felt really pig sick. Everyone had been so kind. Letters and cards had been sent to the hotel to greet me. I just sat there. Pam asked me what the matter was, and I told her I just felt inadequate. I felt so sad. I hadn't been a part of that revival. But Pam was really great. She brought it down to reality. She told me in no uncertain terms that one game doesn't make a season. She said I'd done a lot outside as well as on the park. It made me pick myself up. But I'd felt really dejected. I could have cried all day, I think."
Time, of course, heals all wounds, and Chris confesses to having had a great holiday on Jersey. He recalls the moment when he and the children were at the zoo, watching a huge orang-utang, which Chris admits reminded him of a member of the Cornwall team. (Yes, he did tell me which one — but I'm not going to tell you!).
A man approached, and asked timidly, "Excuse me, but aren't you Chris Alcock?" Chris admitted it, and spent the next hour signing autographs for people who'd seen the match on B.B.C. Television's Rugby Special.
But what of the captain's duties before the match? The team travelled up on the Friday, complete with wives and girlfriends, in the team coach that was something upon which Chris, as captain, had insisted But even the great family man couldn't contemplate the women staying with the team on the Friday night. The women went to their own hotel, where, according to Pam Alcock, they had a great giggle. The team went to bed early. Chris had a terrible night — an unusual occurrence for him, he claims.
But it was the game of putting which he sees as one of the most important turning points of the entire weekend. The players, says Chris, were jittery on the Saturday morning….until someone discovered the putting green in the grounds of The Berystede Hotel at Ascot. All the players collected clubs and balls from reception, but soon became bored with the tiny greens. They tried two at a time, to make them longer. Bored again. Someone spotted the nearby swimming pool and suggested it as a water hazard. And it wasn't long before the tension of the day had been forgotten, as the players attempted sixty-yard drives (with putters) across the pool and onto the greens. Other hotel guests came out to watch and join the hilarity. It was, according to the skipper, just the relaxant that everyone needed.
And the horribly bent putters? Chris isn't sure whether they were charged to the Cornwall Rugby Union, but says. "if they were, it was worth every penny of the cost".
Chris wanted the team to be at Twickenham by half past one. Having been rejoined by the women, they drove into the stadium at twenty-five past, with team coach Dave Thomas playing "Trelawny" on a cassette recorder. Chris was sitting near loose head prop, Johnny May. "John was in tears, and so was I," he said.
He reckons that as a non-Cornishman – he was born in Warwickshire – the emotion of such moments hits him harder than a born and bred Cornishman. "It's such an honour to be accepted….to be adopted that the emotion just overflows," he said.
An hour and a half later Chris Alcock, Navy Lieutenant, adopted Cornishman, gifted rugby player, and inspired captain, walked his team up the Twickenham tunnel to be greeted by as big a roar as has ever been heard in that famous stadium. He was unaware at that moment that it was to be the proudest, the greatest, and yet the saddest and most painful day of his sporting life.
STORY THREE – THE DOLL'S TALE. "Is that your wife you're carrying?…."
The blow-up doll which seemed to appear in almost every crowd shot in almost every newspaper was the brainchild of five men in a mini-bus, who bought more than they bargained for!
Tony, Harry, and Robin Heath travelled to Twickenham with Hayle policeman Kevin Quick, and with Harry Charnock, a director of Social Services in Truro. They travelled up on the Friday, and after a pleasant hotel stop, they bought the doll, plus a few accessories such as a wig, in a Twickenham shop.
Kevin, the policeman, was the first to carry the doll through the streets….and the first to be warned by the local constabulary to keep it off the streets because it might be thought offensive! To his eternal credit, Kevin didn't tell the policemen who were warning him that he, too, was a copper!
Next to carry the doll was Harry Charnock….who was a little surprised when a car drew up alongside him, and a woman's voice said, "Good morning Mr. Charnock….is that your wife you're carrying?" To his horror, Harry realised it was a magistrate from Truro, in front of whom he regularly appears to present Social Services reports. "I'm not sure how I shall ever look her in the face again!" said Harry.
The doll eventually arrived at the ground, where it soon became the most photographed member of the crowd, even getting in on many of the television shots. It's present whereabouts, and plans for its future remain shrouded in mystery!