The Phat Pasty Company with a deal for all our readers below.
Started in 2006 from their home kitchen by husband and wife team, Paul & Laura Clark, the Phat Pasty Company delivered Cornish pasties, savouries and snacks to local businesses and events from a converted 'camper van'.
With their pasties all being made in Falmouth, they sell their Phat Pasties across the UK – from Lands End up to the Highlands of Scotland. You can find Phat pasties being sold by many of the UK's largest food service operators as well as many independent cafes, coffee shops, pubs and restaurants.
Now found in National Trust Cafes, Universities, Hospitals and Schools, this family-owned business is truly taking their beloved Cornish Pasties 'up country' for everybody to enjoy.
Paul & Laura, 'The Phat Controllers', are passionate about their products. Ensuring that only British Farm Assured Steak and the traditional recipe is used, their Cornish Pasty was the 2020 Winner of the Cornish Pasty Company Category at The World Pasty Championships held at Eden.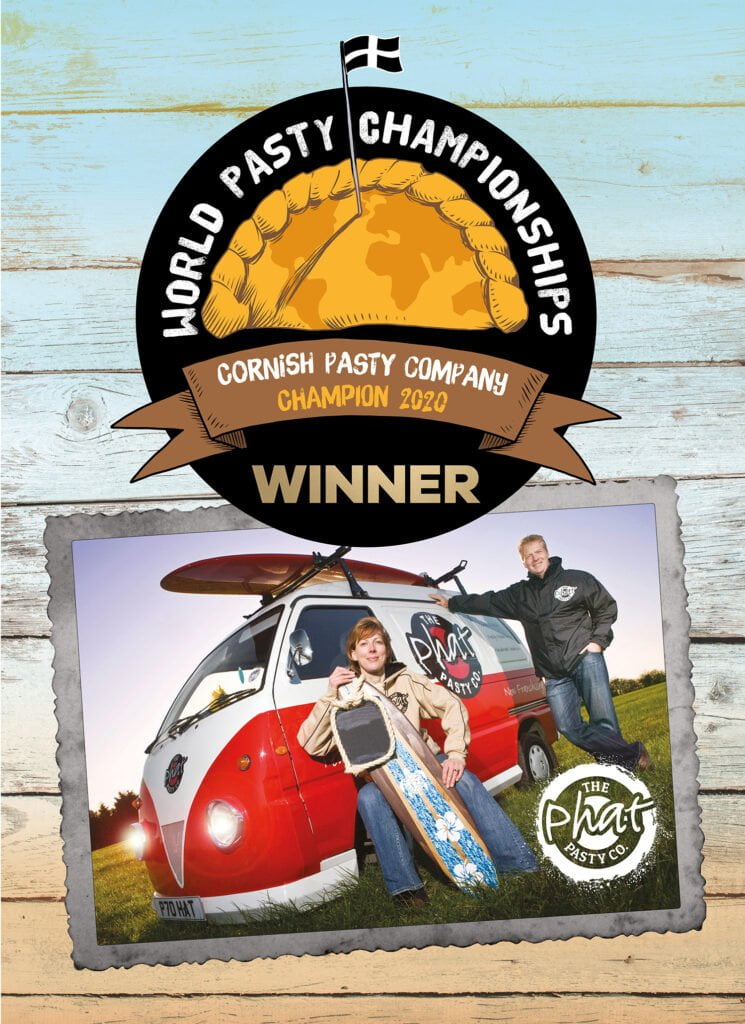 Pasties are hand-crimped and made to their recipes and adding into the range some 'flavours with a twist'. This has led to a whole variety of ingredients and flavours with diverse options and choices available. Pasties such as their Seriously Cheesy Pasty (yes, it's not just a cheese & onion pasty, but filled with Cornish Cheddar, Red Leicester and a creamy sauce…it's truly Seriously Cheesy!) and a growing vegan range which includes a mildly spiced Keralan Cauliflower, Chickpea & Onion Bhaji pasty and a Bobotie Jackfruit pasty (Bobotie is the National Dish of South Africa and the recipe was created by a very talented, young, South African Chef at Merchants Manor Hotel in Falmouth).
Paul said 'Our traditional Cornish Pasty will always be our top seller and signature pasty.
We understand that tastes and demands are always changing and we have had great fun combining the very best of Cornish skills with fabulous ingredients to produce the best hand-crimped pasties."
With the outbreak of COVID and national lockdown Paul and Laura had to adapt their business. Their pasties are now available direct to customers through a home delivery service, via couriers across the country through their Phat@Home website.
www.phatathome.com was launched in May 2020. With boxes of 10 single products, or variety boxes for all the family and those working from home to try, the pasties arrive packed in an eco-friendly, insulated box. Unbaked and frozen, ready for the freezer, just bake off in your home oven to enjoy a taste of Cornwall !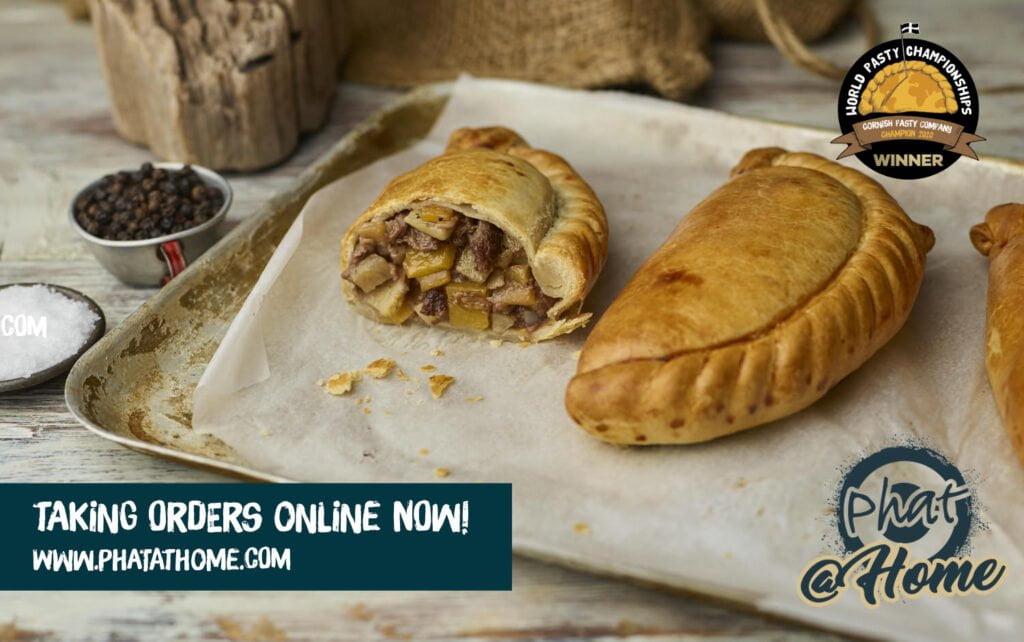 For any readers who would like to try a box of Phat Pasties to be delivered to them at home,
We have been given a Special Code to use at Checkout of CYY10 which can be used at checkout, for a 10% discount on any of their ranges. (Offer Valid Until 1st April 2021).
We have tried their pasties – they really are 'the real deal' and truly Ansom!
Give these a try and you won't be disappointed !