Described by a local news paper as "Truro's very own Mr Nice guy, who was the driving force and lynchpin behind the popular Truro Day", Paul Caruana was born and bred in Truro where he still lives today. Following a period of service with the RAF, Paul returned to his beloved city, where he has been involved in community projects ever since. He was presented with a certificate at the Cornwall Council Civic Awards in recognition of his service to the city of Truro.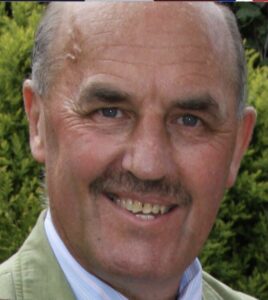 During what will be very testing times for all of us, please, if you'd like to, write a piece about yourselves growing up in Truro. Your lives, experiences, schooling, high points and the not so high. Your friends, work colleagues, your school mates and the characters you knew. We might end up with some interesting tales ! Nothing overly personal or too embarrassing though!

Let me start…. at the age of 8 and living in Trelander North, we backed onto Nicky Spargo's farm. I used to slide over the back wall to get into his barn before helping him milk his cows. When I say helping, I was probably more of a hindrance! No matter how often I tried, getting enough milk out of them cow's teats was beyond me! The saving grace for Nicky was me getting cow pox and having to stop milking…what a relief!

Once we finished milking the six cows he had, it was time to filter and bottle the milk in what was basically his kitchen parlour. Once finished, my reward was always a piece of saffron cake and a cup of tea before we set off delivering the milk around Truro. What an adventure that was! Using his horse and cart, travelling down the most rutted country lane you can imagine, we always started our deliveries in Tregolls Rd. I loved riding on the edge of the cart, it was both challenging and dangerous as I fell off more than once! Health & Safety would have a field day today!

I tell my grand children of my younger days, when, at the age of 8, I had to do something productive to make my way in the world. I'm not too sure if they ever believed me when I told them what I did from such a young age. This was only the beginning.
I was schooled at St Pauls Infants before moving through Tremorvah Middle and Tremorvah Junior school in Agar Rd. Mr Baxter was our headmaster and we had "Granny" Vincent, Mr James the music teacher and Mrs Biddick, who always wore bright red lipstick! I am forever grateful to her for teaching me all about the use of full stops! I would put one anywhere in a sentence until she educated me !

Our school sports days were held at Tremorvah Playing Field and I can well remember winning my blue ribbons, albeit by using my thumb to win the egg and spoon race!

The big surprise of me attending Tremorvah Junior was me passing the 11+ and being able to attend a Grammar School – Redruth, as we never had one in Truro. I started at age 10 back in 1964. I have to say that I hated it ! I had to bike it to the railway station, catch the train to 'Druth and then walk to the school, 6 days a week, as Saturdays were often sports mornings! All too often, I lost my pocket money playing cards on the train with the likes of Tim Cookman, Barry Olds, Kev Harding and Neil Grose(Rozzer).

Another big occurrence as a 10 year old happened whilst working with my dad, Joe Caruana, who was the Head Porter at the Red Lion Hotel in Truro. I was allowed to help carry suitcases for guests and loved the tips ! I was also granted access to the kitchens and that is where something happened that would shape how I would look for the rest of my life. In the kitchens was a weighing machine, the sort they weigh legs of meat on. A dial with hooks top and bottom. Clever me thought I would weigh myself, pulled on the hook and dislodged the whole weighing machine. It hit me in the mouth and shattered my front teeth, a feature that still defines how I look today !

Another great memory from this part of my life was working at Park Farm, potato picking. A tractor and trailer would turn up at Trelander Estate and we would pile onto it en route to the farm. Home made pasties were the order of the day ! It was a fab way of earning a few bob! Living in Trelander was a great experience for anybody growing up there in the 50s and 60s. Amazing families and friends who would help each other get through. Mum would often send me to a neighbour to borrow a pint of milk, a cup of sugar or such like. Proper neighbours in those days as everybody knew everybody else and cared.

One of the other great memories of being a Trelander boy was going off on our Sunday coach trips all over Cornwall. Old Bob was our driver and Jean and Henry Pascoe used to organise them. Not being a car owning family, this really was a treat to get out and about. A real community atmosphere existed, and we had some wonderful families to share our lives with. On the way home, we always had a sing song.
I left the comfort of Tremorvah Junior to be educated at Redruth Grammar School at aged 10. To be honest, it was a wasted education on me. I really hated it. The end result of 5 years of Grammar School education was one "O" Level in woodwork of all things!
I left school aged 15, to face the big, wide world. It wouldn't be until later in life that I wished I had made the most of a privileged education.

The biggest impact on my life was our Dad passing away when I was only 14. It had a devastating affect, one that would impact on my working life forever. I was one of six children and getting out to work was the priority. To say that my working life between the ages of 10 and 15 were varied would be a gross understatement!

At aged 10, I worked with Tom, the Holywell Dairies milkman, delivering milk throughout Malpas and Trelander. Me and Peter Chase would literally carry a crate of milk and run around the delivery route ! We had some lovely customers and were well looked after. Christmas tips were most welcome! One thing to note is that we had an electric van, way ahead of its time!

I moved onto bigger things at age 12/13 when I got a Saturday morning job at Blewetts the bakers, then located behind what is now Burger King. My job…putting the jam in the doughnut! My bonus came at T Break when my doughnut, bloated with jam, was a delicious treat!

At age 13, I joined Tommy Whitelegg's travelling fair, working on the Hoopla Stool. I used to travel to various locations across Cornwall and Devon and stayed with them whilst working weekends. It was a great adventure and made me grow up very quickly. Life was hard. However, I made great friends who would look after your back. Good times indeed.

At 15, and having left school, I gained full time employment with Furniss as a Trainee Factory Manager. Roy Lean was the Manager and he clearly saw the potential in me. Jackie Tonkin was a huge influence in my life then as was his lovely wife Olive. Doug Murton tried his hardest to show me how to make humbugs, but I failed miserably! It was an experience working with a mainly female work force. A young innocent 15-year-old was bait for them to rib rotten and they did!

Throughout my teenage years, I was a Scout at St Pauls and had an amazing leader – Skipper Haynes. What an amazing person he was! He had such patience and understanding and taught me so much. He was the person who had the biggest affect on my life and I will be eternally grateful for his teachings. There was always one period that I really enjoyed and that was Bob a Job week. Why? It lasted for months and we were able to make a few bob out of it. My lasting memory is doing a job on Tregolls Road, sweeping a path for an elderly gent. He came out, took the broom off of me and taught me how to use a broom properly. When he had all but finished, he gave me a shilling and I departed. An easy bob made!

St Pauls youth club was also a place I thoroughly enjoyed. We had some great times there. The youth leader was an Insurance broker and I can't for the life of me remember his name. Paul Taylor rings a bell ? Discos were fab. We had a lad from Truro School who made all the lighting units out of old biscuit tins ! Recently, I bumped into him at Sunny Corner and approached him, asking about the good old days. I hadn't seen him for over 50 years and he'd hardly changed. He was amazed at my recollection!

I also joined the St Pauls Choir. I was told that you could make a few bob by singing at weddings, so I joined. An opportunity too good to miss…I thought. After 3 weeks I had to leave because my voice was, to be honest, crap !

So there you are, aged 10-15 were very interesting, testing, and character building years. My biggest lesson in life was that I soon got to understand that little in this world comes for free. If I wanted something, I had to work for it. Mum always told me that, looking after your pennies will look after your pounds. Something I still abide by today.
Starting work at age 15 was fun and enjoyable. First and foremost, it gave me some financial independence. Having my own money allowed me to actually do and buy things I could only have dreamt of. Very early on, I bought my one and only pack of cigarettes, nearly choked and gave them up the day I started and haven't touched one since! Hand me downs, which played a big part of our lives, were confined to history, and I can recall the day I bought the first ever piece of clothing that I actually wanted to wear! I felt like a million dollars!

Rugby played a big part of my life. I started at age 10 at Redruth Grammar. Fernley Furze, a mountain of a man, was our PE teacher, ably supported by Taff Jones, Ivan Peters and Ivan Greenslade. Mr Furze had a unique way in letting you know he was the boss. How? If you stepped out of line, and I did regularly, he would have boxing sessions. Me against this monster of a man! He never hurt me but he made sure you knew he was in charge and not to be so cheeky in the future!

An interesting story about Taff Jones and his temper. Rob Dale was on "lookout" as Taff was late arriving in class. He saw him coming down the corridor and shouted, "Taff's on the way" Mistake! Taff heard the comment, one which he hated, and demanded somebody own up. Rob did and Taff went wild. He picked him up, turned him upside down and put his head in the wastepaper basket! Gulp! What was this man capable of? It taught us one thing and that was not to call him Taff within hearing distance! He'd be thrown in jail if it happened today!

I loved the game of rugby and it was to play a huge part in my life, in various ways, for the next 40 years or so. I enjoyed playing for Truro, making my senior debut aged only 16. I played for Cornwall Colts at age 17, before going onto bigger and better things during my RAF career. Trelander had lots of teenagers playing rugby. Mike Penhaligon, Peter "Jake" Tann and Jimmy Andrews being three of them. We would spend hours at the club passing and kicking a rugby ball. It cost nothing and filled many hours of our social life.

Furniss, and the people who worked there, helped shape my life in lots of different ways. I earned about 3 quid a week during my period as Trainee Factory Manager. The added bonus was being able to eat fresh shortbread and gingerbreads straight off the oven belt ! If there was a downside, it was being constantly teased by young ladies who revelled in it ! I won't mention any names, but one lady in particular, in front of a tea room full of other ladies, would insist on showing me the latest pair of knickers she had purchased whilst wearing them ! I think I turned purple when blushing!! Of course, they all found it funny apart from me that is! Would I ever fully understand how women's minds worked?

I really thought that Furniss would be my 'forever" job. I loved it until my big sis, Sandra, joined the RAF. Home on leave one day, she "sold" me the idea of joining. Leaving the job I loved was a wrench. However, being the man of the house since I was 14 had taken its toll. I was ready to leave home and escape. Whether or not it made Mum's job any easier only having 4 kids to look after and feed is disputable! I am sure my brother Steve was pleased not to have to share a bed any longer!

I was planning on being an RAF Policeman until I attended the Careers Information Office in Redruth for my interview. On entering, the RAF Sergeant on the desk asked if I'd seen the psychiatrist yet? Why I asked ? Well, he said, if you become a Policeman, you won't have anybody to be a friend! Needless to say, I was talked into becoming an RAF Supplier, a decision I was never to regret. On the 26th January 1971, I signed on the dotted line, aged 17 years and 3 months, a mere baby! I signed on at the Plymouth office and was given my warrant to travel to RAF Swinderby for my basic training. This was where the game of rugby really started to play a huge part in my life.

Getting off the train at Lincoln, we were bussed to the base. After a gentle introduction, I was called to one side to go to the Flight Lieutenant's office. I was crapping myself, not knowing what I had done wrong! Caruana, you played rugby for Cornwall I see. Yes sir. Did you bring your rugby boots with you ? Yes sir. Good, you are playing for the station tomorrow in an RAF cup game! Phew!! I played, scored a couple of tries and that was my introduction to sport in the RAF. My six weeks basic training came and went in a flash. Fortunately, my mother had shown me how to iron a shirt, put a crease into a pair of trousers, press a collar and tie a windsor knot. I had a relatively easy ride whilst many others struggled with both accessing the lone iron, and being able to use it ! That is probably why I still insist on ironing my shirts and trousers to this very day.

RAF Swinderby was a real eye opener. It was where I realised that playing rugby offered the opportunities and to open doors for the rest of my career. Being paid to be physically fit was a pleasure; the other bull I had to persevere was a doddle really. Yes sir, no sir, three bags full sir, with a smile on my face, soon became the norm. Admit to nothing, keep your mouth shut unless you were asked a question and you'll be fine lad. Great advice indeed! I did as I was told and survived before moving onto RAF Hereford for my Trade Training. That was where my life really changed, forever. I was put on train duty, meeting new arrivals at Hereford train station. I had to meet and welcome a group of WRAFs off the train. Little did I know then that one of them was to become my wife.
RAF Hereford was to be my home for almost three months after I arrived from my basic training course. It was sheer pleasure! I was made the "senior" in our block and had the bonus of having my own room. Bliss! The only down side was having to sleep on a horse hair mattress which did nothing for my sleep patterns or my poor back! It was horrible! The one thing I couldn't avoid was the initiation ceremony. Picture this…standing there naked as the day I was born, traffic cone on my head, chanting some ridiculous words whilst walking down the main corridor. It was, I have to admit, a hoot, character building some might say. Today, it would be classed as bullying and severe reprimands would be the order of the day. My, how our world has changed.
We were called "6 week wonders" because that is all it took to train us to become Suppliers. Our Apprentice equivalents had to spend a year there to learn the same as we did. That is probably a wee bit unkind and unfair to them, but it is my story, so I'll tell it as I saw it ! I made some lifelong friends during my time at Hereford. Camaraderie really was the order of the day.
I said in my last post that I would meet the lady I would eventually marry whilst greeting WRAFs at Hereford train station. Christine Sikora was her name, a beautiful young lady from Rochdale. We didn't quite hit it off immediately, but we grew closer the more time we spent together. Love was to blossom and we spent much of our spare time enjoying each other's company. More to follow on this topic.
I found my Trade Training really easy and passed my exams with a distinction. Christine did the same. The day would soon arrive when we were told of our postings. Me to RAF Lyneham in Wiltshire and Christine to RAF Wyton in Cambridgeshire. We were heart broken. How would we ever see each other on a regular basis being over 140 miles apart? Well, in those days, wearing your uniform in public was a big bonus. Hitching lifts was the norm and it worked well for me. We also had 4 train warrants a year we could use, so I made good use of them and visited regularly. You could also(unofficially) buy warrants from your mates and I had lots of them, both mates and extra warrants!
However, we had to find an alternative if our relationship was to survive. The solution? Let's get married ! I was 18 years and 4 days old and Christine was 2 months short of her 18th. Foolish, immature, silly….just some of the comments we received from our families. It will never work, and it certainly won't last were comments from lots of people. Could they be right? Were we far too young? Time would tell! Anyway, after convincing her parents that we would get married with or without their permission, we did, on the 9th October 1971. We were married in Huntingdon Registry Office, had two friends as witnesses and Christine's family there too. The start of over 30 very happy years of marriage was about to begin……..
We came back to Cornwall straight after our wedding and had a reception in Truro Rugby Club before going on honeymoon to…. Liskey Hill Caravan Park in Perranporth ! Don't come knocking when the caravan's rocking somebody once said…Mmmmm. How very true ! Too much information did I hear ? Lols
We had the good fortune to get an RAF married quarter at the old RAF station at Compton Bassett, near Calne in Wiltshire. I travelled into work on the RAF bus and Christine got a job at Harris' Sausage Factory. Two of us working made life relatively comfortable and we enjoyed our time there immensely, making great friends during our 4-year stint.
The bonus of living in a married quarter was that literally everything was supplied as part of the furnishings, down to the 4 Teaspoons we had to sign for. Life was good and we really enjoyed living in Wiltshire and its beautiful rolling hills. Socialising apart, I had a job to do. The Petrol, Oils and Lubricants (POL) section was to be my place of work for my entire stay at RAF Lyneham. What a fabulous job it was too!
Working in POL was like being part of a family of about 20 of us. All different characters and personalities, many of whom I still stay in touch with today. They became great friends too. We had gamblers, alcoholics, workaholics, womanisers, story tellers and sportsmen. What a bunch of guys (no girls) to work with! Part of my task was to fill the huge tankers that refilled the Hercules aircraft we had on the Unit. We had fuel depots spread across the airfield, some miles away, and I couldn't drive…. legally that is ! One night, in atrocious weather, I had the option of cycling over two miles to a remote fuel storage area or to drive, using the section's old Land Rover. I knew how to drive…. the temptation was too great and I succumbed. It was 2am in the morning, driving across the deserted airfield, and the Land Rover stuttered to a halt. Bugger! Not to worry, the vehicle had two fuel tanks, so I switched them over. It was empty! With that, I see an amber light flashing on a vehicle approaching mine. That was it, I was in for the high jump an RAF Policeman steps out of his vehicle, comes across to me and asks what is wrong? I've run out of fuel I said rather sheepishly, crapping myself on the QT . No problem he said, I'll pop over to POL and get you some no driving licence, no Airfield driving permit, a Court Marshall if I was found out and he offers to go get me some fuel ! Result That Careers Information Sergeant was wrong about RAF Policeman having no friends – they now had one, me
My "illegal" driving very nearly caught me out again, this time in our box Mini Van. Another miserable night and I decided to jump in the van to get across the airfield. I put the van into first gear and set off at speed……….backwards, straight into two concrete posts Bugger again! How would I explain the two V shaped bumpers in the morning! That advice I received at RAF Swinderby kicked in. Stay stum, admit to nothing and see what happens. Amazingly, it took three weeks for the Warrant Officer to notice what had happened. He called all of the "legal" drivers into his office for a major bollocking. Of course, nobody owned up because they hadn't done anything, it was me! I did feel guilty, for a short while! I led a very charmed life indeed! Sorry if any of my old muckers read this…coming clean some 47 years after the event is little consolation!
Eventually, I did pass my test and I could legally drive RAF vehicles too. We had enough money to buy our own car. A Singer Gazelle Convertible that cost me all of £25. It had a fab engine but didn't look very good. Working on POL, I had access to paint that gone out of date and had to be dumped. What a waste ! A tin of white gloss was purloined, and my car got painted with household white paint and it looked amazing! The hood – that was a different matter. It had rips and tears and no back window. Black botch tape was in abundance and would stick to anything, and it did! My soft top was now repaired with about a dozen strips of botch tape and painted black. A piece of polythene was used as a back window and the car looked amazing…with the roof down that is.
For my sins, I was put in charge of the consumables – paint, grease, adhesives, oils etc. It is amazing how many friends you make when you have something they need! I loved it, the responsibility and the work. I had another young airman called Jock Wilcox, working with me. One day he disappeared for about 3 hours. I went looking for him and found him hanging from a metal cage pallet! He had jumped off the pallet and the corner upright went straight up the back of his jacket! What a sight, poor Jock, hanging there, stuck and totally helpless. I wet myself with laughter! If only we had camera phones in the early 70s.
Sport was to play a huge part of my life from here on, except for a very short period of time when I had a Warrant Officer (WO) boss who hated all forms of sport. Our conversations would go – Sir, I've been selected for the Command Rugby Team. Stop there Caruana, you're not going! Who was I to argue? A quick phone from the Air Vice Marshall soon sorted that one out, but at a cost to me. The WO tried to make my life uncomfortable to put it mildly. I was soon to get my own back on him though. He drank coffee constantly! "Caruana, get the coffee made" seemed to be an endless task. Well, I used to clean his cup with Vim, a powder cleaner. The thought crossed my mind – what If I left the sludge in his cup and then made his coffee? One cup was enough as he literally spat it out! Strangely, that was the last cup he ever asked me to make. I wonder why? He was soon to get posted to RAF Brize Norton and his replacement; WO Newman was all together a better boss. He loved sport! Things were turning my way…..
As previously stated, rugby was to play a huge part in my RAF career. At RAF Lyneham we had a great side. Seven full RAF capped players and a load of talented individuals. I played rugby for the station, Group, Command and the RAF and Cornwall Under 21s. I even played for Dorset & Wiltshire ! I had the pleasure of playing with various Internationals and British Lions players. Geoff Young, the Wales hooker and captain. Billy Steele, the Scotland winger and Peter Larter, the England second row. Peter was later to become a good friend throughout my career. What a rugby education that was ! My life was dominated by playing representative rugby and I was so lucky to have a boss who both liked and encouraged sport. Thank you WO Newman.
My non-RAF life continued at a pace. A family bereavement caused huge distress and disruption to our married life when Christine's dad died suddenly. Despite the set back, we planned to have our own family and set about it with great enthusiasm! Strangely, for over three years, nothing happened, and we had to go to the fertility clinic to see what, if anything, was wrong. Despite my fairly outgoing personality, this was one of my most embarrassing moments. RAF Hospital Wroughton called me in for tests. There is only one way to tell this story, so apologies if it bothers you…. Senior Aircraftsmen Caruana, take this test tube and fill it with a sample. Very formal I thought. The cubicle over there please. The sample tube was about as big as my little finger! I asked just how I was supposed to fill it? Wrong question, as the very kind nurse said "Use your imagination. There is a magazine in there if you need it". She said it without laughing, but her smile said everything! Job done(OK stop that over active imagination going haywire !), I was diagnosed with a low sperm count and advised to not be so active in the future. Quality over quantity springs to mind! Far too much information did I hear.
I applied to serve overseas, and in late 1974 I was posted to RAF Gutersloh in Northern Germany. This was my first introduction in partaking in an RAF "March Out". This was when you handed your Married Quarter back and it had to gleam! Anything lost had to be paid for and if anything wasn't bright and shiny, you had to pay a cleaning charge. That was a real lesson and an absolute b*ll ache to do. The cleaning process was never ending!
I literally arrived at Gutersloh on an RAF VC10 and was getting off the aircraft, when I spotted an old mucker waiting for me at the bottom of the steps. Hi mate, have you got your boots, we've got an RAFG Cup match tomorrow?! Where had I heard that before? That was the start of some of the very best and worst times of my RAF career.
Sport played a huge part in Station life. Everybody, it seemed, supported one team or another. Rugby was special. We were successful and the social life was most enjoyable, even for a non-drinker like me. The rugby club heaved on match days and a good time was had by all. I played rugby for RAF Germany, playing against West Germany in the Berlin Olympic Stadium and against Holland too. From 1974 until early 1976, life couldn't have been more enjoyable. The benefits of serving in Germany were huge. Christine got a job, well paid and tax free. Then, out of the blue, two things which were to shape my whole life happened. I was diagnosed with a severe form of arthritis that would affect my life for two years. The better bit was that Christine fell pregnant and our first Daughter, Marie, arrived on the 26th Nov 1976. The ups and downs of life…
My arthritis got worse and really affected my every day life. Before I was medically down graded, I was promoted to Corporal. That could never have happened if I had been down graded. From entering the RAF to promotion took me less than 7 years, something that was very unusual and was always a mute subject, especially with the ex-apprentices who were still awaiting theirs. All I can say is…Rugby!
Marie was born at the service hospital at RAMC Rinteln. I was present for the birth and was overjoyed at this momentous occasion. I so wished that nurse at RAF Wroughton had been there to see the beaming smile on my face…success, put that in your pipe and smoke it! Lols
As the Captain of our station team, I went back to the clubhouse to celebrate the birth of our daughter. Not the best decision I have ever made! I was plied with drink, was sick as a pig and woke up next morning lying on a bench huddling a radiator! Looking back, I'm sure it was all worthwhile? Mmmmm.
Some funny occurrences happened whilst at Gutersloh. Dave (I shan't mention his surname just in case), was on night duty in the Tech Stores. He wasn't the most productive of individuals and would always find a reason for not doing something. I arrived one morning and the whole floor in the Receipt and Despatch section had been repainted with red oxide. Wow Dave, it looks amazing! The real reason? He was smoking where he shouldn't have been, threw his butt away and it landed in the saw dust bin! It smouldered, caught fire and he had to put the fire out! The floor got burnt and he had to hide what had happened. He painted it!
We had a Flight Sergeant called Derek Hobden who was a first-class individual and a real gentleman. He was a stickler for obeying the rules. One day, we had a fire alarm go off. Poor old Derek was in the lift when it happened. First rule was to switch the power off, which I did, knowing that he was on his way to somewhere in the lift! Yes, I was and am a practical joker, sorry Derek! Anyway, he was "missing" for some considerable time. Why? I got called away and totally forgot he was still in the lift, stranded! Sorry Derek, this is the first time I have ever come clean on this one! It didn't help when a cartoon landed on his desk of a skeleton, stuck in a lift, with RAF Rankings on its shoulder with the caption – who turned the power off? He was such a lovely man too and didn't deserve it. Lols
RAF Gutersloh changed when the Lightning aircraft were replaced by the Harrier Jump Jets. I hated them. Why ? We had at least three deployments a year, living under canvas for up to three weeks at a time. February at minus 20 degrees, a Summer when it reached almost a 100 degrees and a Spring when it rained non-stop for a fortnight! I liked my home comforts and missed them hugely. Not showering for days on end, the cold, the heat, the flies and the most uncomfortable bed you can imagine to sleep on !
My job was to drive the Eager Beaver Off Road Forklift vehicle to and from the sites. I had to prep them before we left the station, making sure it had enough fuel, oil and the tyres were well pumped up. Finished, I set out towards Senelager woods where the site was. I was smack in the middle of Gutersloh town when it stuttered to a halt. Bugger for the third time! I had run out of fuel! I checked it only 10 miles up the road, so how could it have happened? The fuel gauge was a plastic tube on the outside of the tank. It had stained at the full mark. Duh! Anyway, living the charmed life I had, I happened to break down outside a German Fire Station. I tried to explain English, with a German accent of course, what had happened. In no time at all, I was refuelled and on my way like nothing had happened. Danke mein freunde!
My health worsened and I was struggling with it. Every joint in my body ached and nothing would touch it until I was posted back to the UK to face an uncertain future. The "Graveyard" as it was affectionately known beckoned me. RAF Stafford, No 16 MU was my next posting.
more to follow.
Thanks Paul.