Described by a local news paper as "Truro's very own Mr Nice guy, who was the driving force and lynchpin behind the popular Truro Day", Paul Caruana was born and bred in Truro where he still lives today. Following a period of service with the RAF, Paul returned to his beloved city, where he has been involved in community projects ever since. He was presented with a certificate at the Cornwall Council Civic Awards in recognition of his service to the city of Truro. Paul contuiunes his memories Part Two.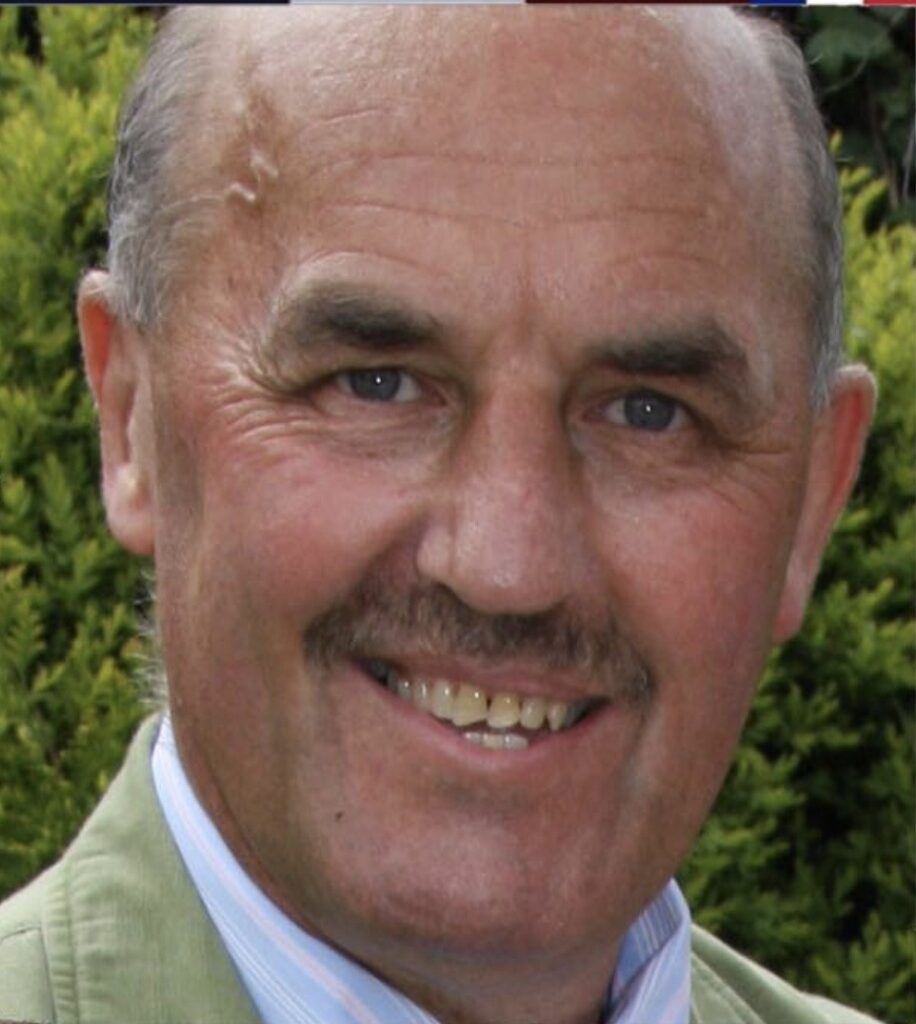 I arrived at the Supplier's graveyard, No16 MU, RAF Stafford, in October 1977. I had already been medically downgraded which had implications on my whole career. My biggest concern was about my possible medical discharge from the RAF and the loss of my income. I had a young family to look after and it was a wee bit scary ! Life, as I knew it, was potentially going to change beyond all recognition ! I was treated for my arthritic condition but little changed until approx 18 months into my tour. We had a civilian GP on duty when I went for my appointment and check up. That was a game changer for me. He asked me if I had tried a relatively new drug on the scene ? Nope. Try it and see how you react. Sure. Overnight, after only one day's treatment, my symptoms all but disappeared ! Magic ! They improved significantly, so much so that I was medically upgraded. It also gave me an option that I will expand on later.
RAF Stafford was a hell hole for Suppliers. The only saving grace was that we had some real characters working in it. This is where I met Ray Holland who will, I am sure, add his comment to this.
Stafford had the infamous "DAC" building which had, from memory, 11 miles of corridors and no internal windows in it. It was an absolute maze that always seemed to be busy, day and night. The RAF distribution network was centred on the DAC, sending equipment all over the world. Our job was to satisfy those demands for equipment which was often easier said than done !
After a few months of sending priority equipment across the world, I was transferred to "Floor 72", a maze of corridors squashed between others. The ceilings were low and almost everything was grey. Dreary or what ?! The bonus was that my Sgt was Wiggy Williams, somebody I knew from Germany and was an easy individual to work with. My wife had worked with him, so a link already existed. His nick name, you may have already guessed, was down to his ill fitting wigs ! They were so blatantly "wiggy" that they did him no favours ! My wife told of the day she opened a drawer and screamed ! Wiggy had left his wig in it and she thought it was an animal ! I was soon to learn that Floor 72 had its problems and that was why I was sent there. Staff had become laxidazical and that had to change, not by use of any extreme methods, but by good leadership and gentle persuasion. It worked ! Before too long, we had an excellent team, working together, all pulling in the same direction. The turn round was amazing and others recognised it. Our ongoing success was later to be a potential burden for me.
I didn't partake in any sport during my time at Stafford, as my medical condition precluded me from playing any contact sport. I was confined to watching and that was it. I missed it hugely. Not to worry, as it wouldn't be too long before I was up and running again, literally.
The real bonus of serving at RAF Stafford was its location. We enjoyed the Derbyshire Dales, the Staffordshire Moors and North and Central Wales, all within easy access. They are, if you haven't been there, beautiful parts of the UK. Yes, we are blessed in Cornwall, but there are some amazing places to go and enjoy across the whole of the UK.
Our team success on Floor 72 resulted in me being selected to go to another "difficult area" to try to sort them out. It was a job that I didn't look forward to doing and was glad that I had an opt out. That was when I played a card that I had held back since I was medically upgraded. That process gave me the option of applying for a posting, which I did, sharpish ! In no time at all, I was off to RAF Uxbridge on the outskirts of London. Ace ! Little did I know that, one day, I'd be back serving at RAF Stafford !
November 1979 and I arrived at RAF Uxbridge which was all together a different Unit. Small, compact and more of a paperwork job. Much less busy than my previous Units. Furthermore, the station was within walking distance of the tube Station and access to London ! Life was going to most enjoyable for the next two years, or so I thought !
Christine got a job, our Married Quarter was more than comfy and everything was good. I worked for a Flt Sgt Vic Simpson, a man who made sure that I made the most of the opportunities afforded me. I could have spent the rest of my career there as it was such a great place to work. However, It changed overnight. The station had no external security and just about anybody could access it. They did. The IRA planted a petrol bomb in one of the barrack blocks and it blew up. The saving grace was that an airmen saw the bomb and dismantled much of it before it went off. Security changed overnight and the whole station was fenced off and in lock down, forever. It was here that I met Doug Porteous, who will, no doubt, add to this story as well.
The Southall riots also occurred during my time at Uxbridge and that made life somewhat uncomfortable. Maybe this wasn't the best place to be after all ?! Add to that the National Fireman's strike, when I had to train as a fireman, and RAF Uxbridge lost its attractiveness for some reason !
After fully recovering from my arthritis condition, I decided to become an RAF rugby referee. Where else could you spend a working week learning how to referee a rugby match ?! I took to it like a duck to water and was soon refereeing locally in London too. At age 27, I was very young to be a referee and it was to pay huge dividends for me. Getting about London on my 49cc scooter was somewhat hairy and I had some interesting moments getting about ! After a year, my prowess as a referee saw me refereeing some great games and my career really took off ! Age was on my side and those in charge decided that I was the one to push forward. I loved it !
My job was both easy and enjoyable and I was well looked after. After two years I was to be promoted to Sgt, some 10 years after I joined. It was remarkably quick for a "six week wonder", especially when many of my contemporaries were still airmen. Hard work, commitment, some ability and rugby had helped me get on and I was off to RAF Lossiemouth in Scotland for my next tour in 1981. There was a big bundle of surprise there awaiting me…..
RAF/REU Henlow was to be my home from 1983-1988. Located just North of Hitchin in Hertfordshire and South of Bedford, it was sited on the edge of the countryside and had good access to London. Brill. It was the home of the Radio Engineering Unit that was responsible for installing radar systems across the RAF.
My first job was the easiest I was ever to have – SNCO i/c Clothing Stores. Bliss….I had three staff, all of whom could make tea to my taste, which was wonderful as we consumed lots of it ! The job was very easy until some "Rodney" would come in demanding we replace his lost equipment for free. Officers had to purchase their own equipment or were loaned specialist equipment. For many, one of their items was a much-prized Aircrew Wristwatch. Very expensive if you lost yours! Lots would come in with the saddest of stories about how they had lost their watches. When I was sailing, when I moved to a new house, somebody has nicked it, I heard them all! The result was always, without exception, a bill for the lost kit. Harsh or what did I hear? Strangely, the man who dropped his overboard whilst sailing, found his sometimes later. See, miracles can happen!
The real bonus of working in clothing stores was that time off to rugby referee, train budding referees or attend rugby conferences was never a problem. It was during this time that I became an "International" rugby referee. My first game was Scotland v Wales….an Air Training Corp competition! Lols It wasn't what I dreamed of but, hey ho, Caruana had refereed an "International".
I did make it to Rugby HQ to officiate twice though. The Army v The Navy is always played at Twickenham and I was one of the three officials. Ed Morisson and Brian Campsell, both International referees, were the men in the middle and the experience and occasions were ones to cherish for life. My abiding memory is when I was walking on the pitch pre-match. Not a soul around, when the Tannoy blasted out – the man with the bald head, please get off the pitch! Moi! Fame at last! The Inter-Service games were always well contested. The first one was memorable for a 30 man punch up straight after kick off! Brian came over to ask my advice. What happened he says? Don't ask me, I don't have a clue, it just happened! What a great experience!
After a year in Clothing Stores, I was transferred to a department called Trans. It covered the receipt and despatch of goods all across the world and a packaging section that could build a box for anything! As an aside, I had a job working with the USAF at Mildenhall. This was to dominate my life as it meant travelling to and fro the base to collect and deliver equipment before despatching it overseas. One of the perks was that I was answerable only to our Sqn Ldr and he was ace. Sqn Ldr Tom Kerr, a real gent, a proper human being, no airs or graces and as down to earth as you could get. He was to play a huge part in my longer-term career, more of which I will cover in a later Part.
I was blessed with a great bunch of your airmen to work with. Some, however, were a wee bit naive about life in general, especially their finances. One of them, whom I can't name because he is a Facebook friend, asked me one day to help him with his bank account. He couldn't work out why he had no money left but still had cheques in his his cheque book ? Mmmm….really? Another was a JNCO who could stand there for 20 minutes to tell you how he was far too busy to do a 10-minute job, regularly. They really were a mixed bunch. The bonus of working in Trans was that we had a JNCO called Bali Singh. A true gent, a good human being with a wife who could make simosas to die for! Our T bar was the hub of our workplace and Bali added to that.
The best perk of working with the Americans was travelling to the US to collect equipment. One trip alone took 5 RAF Hercules aircraft to collect it. Some unusual things happened to me in America….the first was suffering from toothache and attending an American Forces clinic. Four dentists came in and checked me out, one after another. Scary, what on earth could be wrong? Is there a major problem I asked? No, it was just that none of them had ever checked out an Englishman's teeth before and they all wanted a peek!
The second was driving a digitally controlled automatic car. It was a first for me, both in driving an automatic and driving on the wrong side of the road! I was crapping myself! It didn't help when I drove into a huge storm, rain pelting down and I didn't have a clue how to use the wind screen wipers!
I finally reached Dallas Fort Worth and stayed in place called Mesquite. What a place! It was the home of the Rodeo and wow, are those guys mad, brave or plain stupid? What a spectacle! The clowns were goading the bulls from the safety of their plastic containers. The bull would charge, hit the container, sending it flying and the poor old clowns would pop their heads out ready for round 2! Mad!
I watched my one and only baseball game at Dallas Rangers. Boring or what?! I got chatting to a local and told him that the game took too long and lacked excitement. He responded by telling me that we watched cricket in England and the game lasted 5 days. Point taken!
I treated myself to a huge rib eye steak in the restaurant next door and was served by about half a dozen different young ladies. Why the fuss ? None had heard an English accent before and just wanted to hear me speak!
I attended my first meeting with USAF officials and made them all hoot with laughter. Why ? I had a writing pad and pencil supplied to use. I made a mistake and asked if anybody had a rubber I could use? Without exception, they cringed, looked at each other and burst into laughter. A rubber in America is a condom! Duh! A good job I can laugh at myself!
I decided to visit a shopping Mall in Dallas. Parked up at 9am, it was empty, with me being the sole car to park up. They didn't open until 10am so I waited and spent the day in a massive shopping precinct surrounded by huge car parks. I came out to find every car park full and couldn't recall which entrance I had used. They all looked the same to me! I now had to find my hire car. I knew it was silver, but every other car seemed to be too! The only way to find it was to walk around the car parks, pressing the key fob, to see which car lights flashed! It took me hours to find it.
We loaded all of the aircraft, or so we thought, when an American airman came out and said "have you got room for one more box?". I am sure we can fit it in….Mmmmm…it was over 30 ft long and 6 ft square ! A quick phone call and another Hercules was en route. I came back with the Aircraft and what an amazing journey it was. Sitting in the spare seat, watching the world unfold is an experience to be enjoyed. The noise was horrendous!
Henlow was the best place ever if you enjoyed coarse fishing. Mr Carlisle, the neighbouring farmer, owned two fabulous lakes, both of which were teeming with huge carp, bream, tench and roach. The bonus? Only station personnel were permitted to use it. Result! One morning at daybreak, I loaded my bike with all of my gear and set off to the lakes. Riding across rough farm tracks, my front wheel caught in a rut, turned at 90 degrees and I flew over the cross bar, landing on my chin. Not deterred, I carried on and enjoyed a fab day fishing. When I got back home my face wasn't a pretty sight and I received absolutely no sympathy whatsoever!
With the rugby season finishing at the end of April, and the coarse fishing starting in June, I was able to enjoy both of my hobbies thoroughly. That is until an injury nearly ruined both careers, rugby and work.
Having never had a serious injury either playing or refereeing rugby, my first more than made up for that! A sore achilles resulted in an operation to clean it out. Six weeks later and I was just about over it, ready to start training again and then a comical, but serious, event occurred. I was riding to work on my RAF bike when the seat collapsed. I slipped onto the cross bar, my recovering foot/achilles hit the ground and the pedal swivelled and hit me square on the injury. Drats! I hobbled to the Station Medical Centre and was told by the MO what it was only bruised. Phew! A week later I attended an outpatient clinic to have the initial operation checked on. The surgeon went wild! It had been completely ruptured and I had been hobbling about on it for a week! The beauty of Service Hospitals is that you get seen to quickly. I was back in hospital within days and had my ruptured achilles repaired. Three months in plaster, another three to fully recover and then I was able to get back to training. Within no time, I was back refereeing like nothing had happened. Phew, again!
A year later and I had more achilles pain. I was sent to the specialist in London to see the "top man". He was away so his junior treated me. He injected my achilles with cortisone and made an error that was to potentially ruin my career. Some months after, I was walking along when a "snap" occurred. My achilles had ruptured again and it was down to the cortisone in my tendon "eating it" away. Apparently, the cortisone jab went through the achilles sheath and into the tendon. I was back in hospital again in no time. Operation number 3.
The operation I had was relatively new, indeed the surgeon's first one ever! The operation went very well but…. the surgeon sat on the end of my bed and gave me the news and it wasn't good. "You'll walk again, but you'll never run. We have done our best but that is the way it is". The end of my world as I knew it, or was it? I was in plaster from ankle to thigh for three months. Another three months from ankle to knee and then six months recovery. My saving grace was going to the medical rehab facility at Headley Court for three weeks to teach me how to walk again properly. The staff were amazing! I did feel a bit of a fraud though, being there with guys that had lost their arms, legs or both and it made me feel somewhat inadequate. Apart from teaching how to walk again, they also introduced me to Live theatre. The London Theatres gave them free tickets for most of the West End shows. There were never enough to volunteer to go so I filled my boots! West End shows for free? Magic!
Having taught me to walk again, I did get to see the "top man" In London for a check up. I told him what the surgeon had said about never running again. What a load of bo**ocks was his response! If you feel you can do it, go ahead and try! I took his advice and it worked! It took me over 6 months, but I was fit, well and running. My careers were saved! I got back refereeing and was soon back referring the likes of Gloucester, Rosslyn Park and other senior sides. This was in the days before League rugby and I was on top of the world! I was the senior referee in the Combined Services and some great games were given me to referee.
I mentioned Sqn Ldr Tom Kerr in a previous chapter. He sat me down one day and said that I needed to consider my future. I had been promoted to Sgt within 10 years and promotion to Flt Sgt wasn't far off. "What will you do when you reach the top and have nowhere to go? Mmmm….food for thought! "Why don't you consider getting commissioned?" Again, more food for thought, but I wasn't qualified. That was just what I needed to kick me into action and get qualified. My "O" level woodwork wouldn't be enough to get me there! I took "O" level Maths, English and Geography and attained "A" grades in all three. If only I hadn't wasted my time at Redruth Grammar School who knows what I might have achieved?
Time came to sit the Station board to see if I was suitable Commissioning material. I have to say that my general service knowledge was abysmal and that soon became obvious during my interview! I really thought I had flopped and that my chance had gone. Mmmm, the Station Commander called me up for a second interview and told me that my interview was absolutely atrocious! However, they could see the potential in me and had decided to forward me to RAF Biggin Hill for a formal interview. Was I born lucky or what?! I attended Biggin Hill and was somewhat apprehensive. How would I cope? Would I flop again? My turn came. I knocked on the door and a familiar voice said, "come in Paul". It was a fellow rugby referee! Born lucky? Yep! My interview went like this…Tea or coffee? Tea please sir. When can you start at Cranwell? After October. Right, I'll sort it ! That was my interview apart from some general chit chat about RAF rugby! Who said it is who you know, not what you know, that gets you on in life? He was right!
I had some bad news to come. The medical people considered that my achilles wasn't up to the rigours I would face at the RAF College Cranwell and they wouldn't sign me as fit despite being back referring my rugby. Again, my friends within told them that I was going to Cranwell and that was the end of it ! I was on what was known as Branch Commission. You had to be aged 35 to start it. I was only 34. Not to worry, you can start early and finish it when you reach your 35th birthday, some 5 months into the 6-month course. That was it, I was off to RAF College Cranwell. I was soon met by the Officer in Charge rugby and was told that I was refereeing a station game next day. Can you see a pattern emerging? Welcome to Cranwell which would be my home for the next year. It was to prove to be the best thing I ever did, or was it ?
I arrived at the RAF College Cranwell on the 3rd June 1988, a wee bit apprehensive and a wee bit excited. I was part of No 112 Initial Officer Training. Head down, nose to the grind stone for 6 months, and things should go well. At that stage, I didn't know just how well it would go. Firstly, I had the pleasure of meeting up with some old mates who had decided to go down the "commissioning route". We were all able to feed off each other which made life less problematical. I was also blessed with a very young Flight of new recruits, 7 in total, all sharing a common goal – getting through the next 6 months!
The best bit of preparation I had prior to arriving at Cranwell was getting super fit. I was well aware that they would try to "grind you down" to see how you reacted under pressure. It was water off a duck's back and I actually enjoyed that part of my training. The advice I received when I first joined the RAF kicked in – yes sir, no sir, three bags full sir, always sprang to mind when being balled at by our Instructors. It was all part of the process. Stand there, grin and bear it with a smile on your face.
The area I thought I would struggle on was the service history training and such like. We would attend very many lectures in the main hall, listening to a plethora of "experts" share their knowledge and wisdom with us. Have you ever seen dozens of people fall asleep when being lectured? It was to become the biggest bedroom ever! The further into the course we got, the more that fell asleep! Tiredness was a huge factor for some, and some paid the ultimate price when their ventures ended prematurely. They couldn't hack it and were politely asked to leave.
In no time at all, I was "baby sitting" the youngsters, ensuring that they all pulled in the same direction. Teaching them how to iron their uniforms, wash their clothes, make their beds, keeping their rooms clean and their lockers looking pristine, was an effort on my part. It was all about prioritising; unfortunately, few of them had any idea at all. Socialising came first and they were soon to find out that wasn't the way to get through! The golden rule was – work first, get it completed, then socialise but don't burn the candle at both ends, as there would be a price to pay! Some learnt the lesson early on, others not so.
Fortunately for me, I was "advised" what to take with me to help me get through the training. One iron, one ironing board, an extra 4 used but pristine shirts, a kettle and life would be made easier – it was ! Waiting to use the communal iron and ironing board meant a very long wait! I happily shared mine with other Flight members. My 4 extra shorts never moved out of my locker, had razor sharp creases and looked the biz ! My kettle was a godsend. The ability to make that all important cuppa was absolute bliss!
Only thing I had to do was store my "assets" in my car, out of sight, just in case. As an aside, I now take a kettle on holiday wherever I go! Saddo or what?!
I had a great Flight Commander to "guide" me. He soon understood the need for us "oldies" to help the youngsters through. We all had a number of tasks that we had to undertake, taking the lead in order to show our leadership credentials. After my first one, he called me in to ask if it would be OK if I forfeited my tasks to help those strugglers get more experience. He had seen me in action and it clearly impressed him. Mmmmm, of course sir, I'll happily do that! To be honest, most of my time was spent helping the youngsters get through, and it wasn't just their leadership tasks. Some were missing "normality". By that I mean boyfriends, girlfriends, family and friends. I spent many an hour giving them the benefit of my experience and for some, not all, it helped. I never thought I'd be an agony aunt!
Anybody that knows me will know that I am not the best coordinated person in the world ! Our drill instructor soon found that out and would call me out. "Caruana, show them how NOT to do it !" He knew how to take the mickey out of me, but it didn't bother me one iota. I can laugh at myself, so mickey taking, where its justified, is just fine with me. He tried, and failed miserably, to teach me how to use a Ceremonial Sword. I'm sure somebody would have been decapitated had I ever been allowed to use one ! Maybe that is why he ended up giving me the wooden one to use??
Part of our training was to give a series of presentations. Those of you who know me that I hate Public Speaking despite being a chat box! My first was about voluntary euthanasia of all things! Within no time, two young ladies were in floods of tears as it was a subject too close to home! Not my best choice of subject matter to start with! My second was about living a life of privilege and how it was seen by "normal" people. That caused some discussion too! I despise those who live a life of absolute privilege and let others know it ! Their sense of entitlement is something I still have issues with today. One particular young lady had lived a very privileged life and I could see her eyes rolling when I asked one provocative question after another. For some reason, she was never my favourite person! I wonder why? My third and final presentation was about the importance of our farming communities. Little did I know that it would help me in my second career some 25 years later.
Halfway through my training, along with everybody else, we moved from the barrack blocks into the Main College Hall Officers' Mess. Chalk and cheese springs to mind. Our own fab rooms and some proper comforts. It really felt like we were on the home straight and the end was in sight. The one "obstacle" still in the way was "Camp". We had to travel to Northumbria and camp in the woods for a couple of weeks. On arrival, I heard the words "Caruana, you're the camp commander". Shit! What did it involve? Overseeing the unloading of the equipment, arranging where it went and the initial setting up of the tented camp. I have to say it went really well and, before the end of the day, I heard the words "Caruana, hand over your duty to….". Phew! The camp was fun, and everybody pulled together. Living 6 to a tent, you soon got to learn a lot about your co-inhabitants! I soon learned that women can match the men when breaking wind and snoring! Some even sacrificed their privacy and shared a sleeping bag! It was a time to pull together and the overall feeling was that the "bosses" were happy with what they were seeing. Things were going well and we all made it through.
We were given some "good" advice prior to leaving for camp. Our Flt Sgt "Rock Ape" told us the importance of having spare keys for the lockers we took with us, just in case. "I suggest you tape to the inside of the locker, like this ". With that he went ahead and stuck the key to the inside of the lid. Flt Sgt, can I ask a question? Yes Caruana. If you lose the key, and your spare is inside the locker, how do you get to it? He was man enough to laugh at his own "good" advice! Lols
One of the most beautiful sights I have ever witnessed happened during our camp. The sun was setting on the far hillside which was covered in purple heather. It lit up. Wow! What an amazing sight, one I shall never forget.
Camp came to an end and we really were nearing the end of our course. The focus was on the passing out parade, so drill became a large part of the monotonous daily routine. Boring or what?! The Passing Out Parade was in early November on a cold but dry day. I had my wife and my mother there to see me "pass out" and it was a very proud moment indeed. The one thing I would have loved to see there would have been my Dad. He was in the RAF during the war and reached the rank of Leading Aircraftsman. He would have been immensely proud of my chosen career path.
The good news was that I had passed all parts of the course with flying colours. Of the 100+ cadets, I came 64th, not bad for a boy that left school with "O" level woodwork to his name! Flying Officer Caruana was to be let loose on the world, after I had completed my professional training that was. Next stop…. Cranwell Training Flight for the next 6 months or so.