As Marshgate WI approaches its 70th birthday, it has a lot of history to look back on from its humble beginnings in the village schoolroom.  This small but perfectly formed WI has members from all over the Camelford, Boscastle and Crackington area, and once had a unique relationship with the famous Bodmin mental hospital.
Numbers once fell to as low as five, but Marshgate WI has weathered the storms and continues to be a successful institute with some great memories recorded in its books.
The institute was formed at an inaugural meeting on Friday 20th April 1951, with Mrs Emily Harris in the chair – Emily was later elected first president of the new WI, which held its first proper meeting in the village schoolroom on 24th May. Besides Emily, there were 22 ladies present, as well as a VCO (what we would now call a WI Adviser), who would have overseen the setting up of the institute and committee. An enormous committee – 10 ladies – was elected!
Old record and minute books unearthed in the archives at WI House, Truro, offer some fascinating glimpses into the lives of the ladies in Marshgate and the work of the WI at that time. What strikes the reader is that they could have been written after any of today's meetings – the matters being discussed are still very much the same.
The first secretary, Mrs L Saunter, left us minutes in beautiful copperplate writing. Unfortunately the records were not always kept as well: at least one section is all but illegible because of the writing of the minutes secretary; others have pages that have been damaged by wear or sticky tape, and often the matters being recorded are referred to only very perfunctorily. Still, it is a privilege to go through these records of our early days and see how similar things were then in so many ways. Not until 2003 did Christian names start to appear in the records…until then members were referred to as "Mrs Smyth" or "Mrs Wadey"!
Sometimes there are howlers: in 1968 the minutes record that "Granfer Coombes is to celebrate his 95th birthday on the 22nd October, and Mrs Howling agreed to do something about it."
A Mr B Saunter (perhaps Mrs Saunter's husband) acted as Independent Financial Examiner from 1951 until at least 1976 – this would be frowned on today, when IFEs are expected to change after three years.
Those 1950s members were keen – some walked at least two miles to attend the meetings, each member bringing with her a cup, saucer and plate for the refreshments, as well as food to share.  In the winter months they also brought a piece of coal each for the fire, and one member, Mrs Gladys Bray, brought a Tilley lamp, as there was no electricity in the village in those days.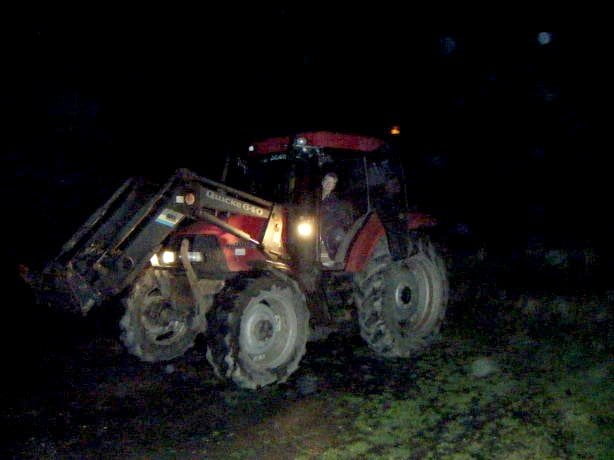 Another member, Mrs Lewin, would dash to her cottage opposite the school at refreshment time, to fetch the kettle she had left heating on the hob to make tea. Mrs Bray's first membership card from May 1951 is preserved in our album. She paid 3/6d (three shillings and sixpence, or 15.5p in decimal money) subscription fee!
Marshgate WI held their first outing – a coach trip to Ilfracombe – in September 1951, and this outing became a regular annual event, with trips to Torquay, Exeter and other places of interest.  They also organised a second trip, a mystery tour, every year.  They had a Christmas dinner for members and a party or celebration for both the children and the elderly in the village.  The tea for the elderly was discontinued after a few years, but gifts of tea and biscuits were still being given in the 1970s, while the children were given a Christmas party in December or January, or taken to the pantomime, for many years.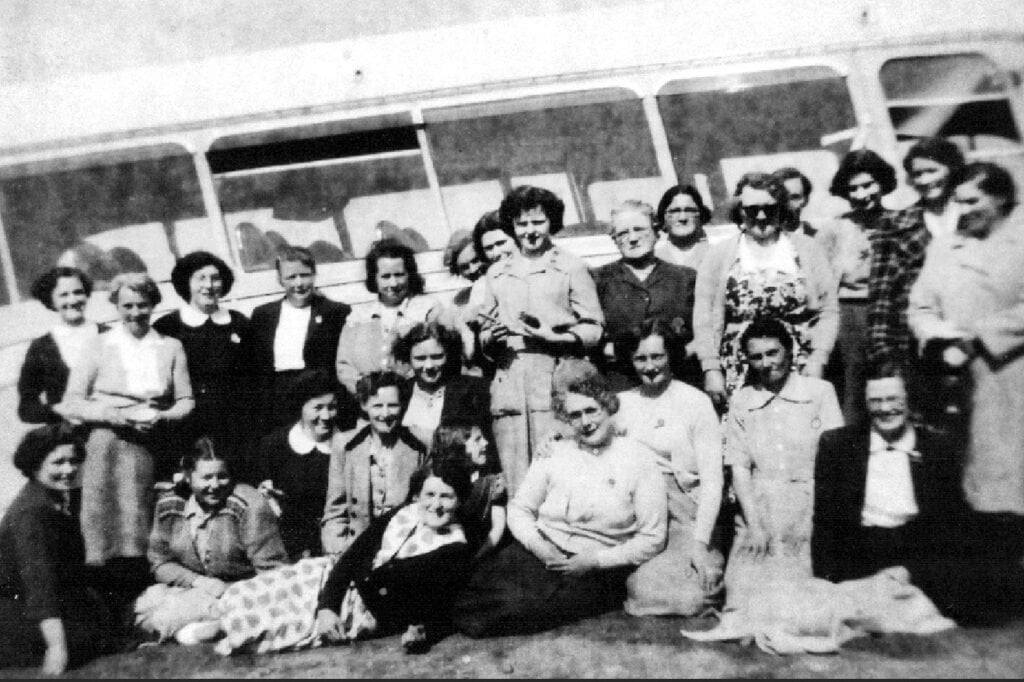 The programme was full of interest and pretty similar to what we enjoy today, perhaps with slightly more emphasis on home cookery and preserving.  Talks and demonstrations included icing, silver work, smocking, raffia work, upholstery, quilting, jamming, paper flowers, a walk, a quiz and the work of the Post Office and the CID. 
Every single meeting started with the singing of "Jerusalem" and ended with "The Queen" – not something we do today.
In January 1961 meetings moved from the school to the then new Otterham and St Juliot Hall, which was demolished in 2014 and replaced with a new hall part-funded by the Lottery.
For much of its history Marshgate WI had a relationship with St Lawrence Mental Hospital in Bodmin, the institution which gave rise to the local expression "completely Bodmin", meaning bonkers. Marshgate WI took the patients under their wing and held regular tea parties with entertainment in the village hall, usually in March, for the hospital patients, who were bussed to Marshgate for the occasion. Older members recall that sometimes more patients turned up than were expected…hiding under the seats! In 1994 the WI books record that the party held in March 1994 was to be the last, due to low membership of the institute and also to falling patient numbers, probably due to new Government "Care in the Community" directives implemented around this time. This impressive Edwardian hospital closed in 2002 and has since been demolished and the site redeveloped.
In this period outings included a trip to the cinema and visits to the Ambrosia Factory at Lifton and the Wonderloaf Bakery – with a supper laid on by the staff. Food companies also sent speakers or demonstrators, including Quaker Oats, Allinson's Flour and Cadbury's, who were later recorded as sending boxes of chocolates to be used as prizes for the Autumn Fayre.
By 1972 membership was falling steadily, and many of the usual activities were discontinued, including the children's Christmas outing to the pantomime, which was replaced by a small gift of pencils. By 1994 membership had fallen to just five, and all meetings were held at a member's home by turns. Because of the low number of members, the membership also comprised the committee.
Two years later the WI discussed suspending due to low membership. But the WI weathered this and voted to continue, and from this point membership gradually started to rise – to 25 a couple of years ago.
Today up to 20 members enjoy a programme of talks and demos, trips to local attractions, coffee meet-ups, lunches and a Christmas party, and are regular competitors in the Royal Cornwall Show WI marquee, where they have twice been overall second place winners in recent years.
For contact details see our website www.marshgatewi.org.uk/ Or meet us on Facebook: https://www.facebook.com/groups/1437339712975724/